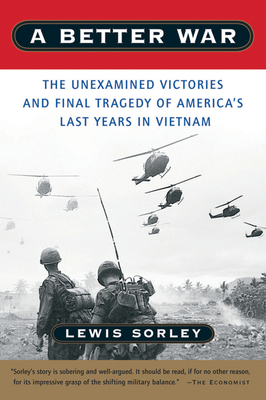 A Better War (Paperback)
The Unexamined Victories and Final Tragedy of America's Last Years in Vietnam
Mariner Books, 9780156013093, 544pp.
Publication Date: April 10, 2007
Other Editions of This Title:
Hardcover (6/1/1999)
* Individual store prices may vary.
Description
Neglected by scholars and journalists alike, the years of conflict in Vietnam from 1968 to 1975 offer surprises not only about how the war was fought, but about what was achieved. Drawing from thousands of hours of previously unavailable (and still classified) tape-recorded meetings between the highest levels of the American military command in Vietnam, A Better War is an insightful, factual, and superbly documented history of these final years. Through his exclusive access to authoritative materials, award-winning historian Lewis Sorley highlights the dramatic differences in conception, conduct, and-at least for a time-results between the early and later years of the war. Among his most important findings is that while the war was being lost at the peace table and in the U.S. Congress, the soldiers were winning on the ground. Meticulously researched and movingly told, A Better War sheds new light on the Vietnam War.
About the Author
Lewis Sorley is a third-generation graduate of the United States Military Academy who also holds a Ph.D. from the Johns Hopkins University. He served in Vietnam, and in the Pentagon in the offices of Secretary of Defense James R. Schlesinger and Army Chief of Staff General William C. Westmoreland. He also taught at West Point and the Army War College. He is the author of five highly-regarded works of military history.
Praise For A Better War: The Unexamined Victories and Final Tragedy of America's Last Years in Vietnam…
"Sorley's book is as important a reexamination of the operational course of the war as Robert McNamara's In Retrospect is of the conflict's moral and political history."—Publishers Weekly (starred review)

"An extraordinary piece of work that is bound to become a valuable part of historical documentation about the war in Vietnam. The first to set the record straight concerning the outcome of that conflict."—H. Norman Schwarzkopf, General, U.S. Army, Retired