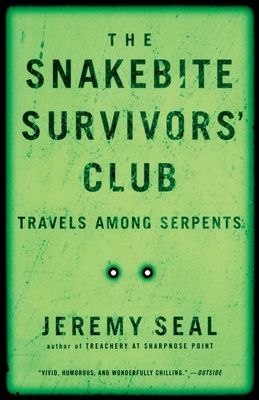 The Snakebite Survivors' Club
Travels Among Serpents
Paperback

* Individual store prices may vary.
Description
Snakes are Jeremy Seal's fascination, and his greatest fear. In an attempt to overcome his phobia, he decides to journey into America, Australia, Africa and India in search of the most notorious and deadly snakes, and to meet the people who live among them. His travels take him to Kenya's snake man, whose entire life seems like a preparation for a bite from the terrible black mamba, and to witch doctors, who use snakes as instruments of vengeance. He recalls the stories of Australian convicts condemned to prison in the land of the world's deadliest snake, and the story of a Southern preacher who tries to murder his wife with his church's rattlesnakes. Mixed in with all these bizarre tales are fascinating scientific facts, snake lore and ancient legends.
An erudite but highly entertaining travel narrative, The Snakebite Survivors' Club taps into our general fear of snakes to tell a funny and somewhat gruesome account of the world of snakes and the people they repel, mesmerize, and sometimes kill.


Praise For The Snakebite Survivors' Club: Travels Among Serpents…
A white-knuckled voyage . . . enlarged by historical detail and squinty-eyed
snapshots of the scaly global outback."-Outside
Seal tells fascinating stories and complements them with lore that is funny,
gruesome, and mesmerizing."-Men's Journal
Mr. Seal has a gift for bringing to life the sensations caused by snakebite. . . .
An affable and wide-ranging travel book."-The Wall Street Journal


Mariner Books, 9780156013673, 352pp.
Publication Date: October 15, 2001
About the Author
Jeremy Seal has written for numerous English newspapers. His first book, A Fez of the Heart, was chosen as a Publishers Weekly Best Book of the Year and short-listed for the Thomas Cook Travel Book Award. His second book, The Snakebite Survivor's Club, was a New York Public Library Exceptional Book of the Year. He lives in Bath, England, with his wife and daughters.