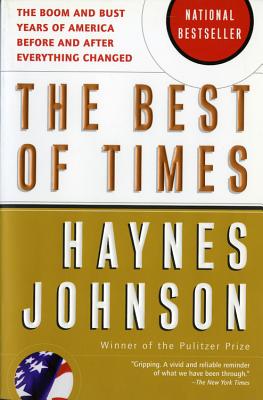 The Best of Times (Paperback)
The Boom and Bust Years of America before and after Everything Changed
Mariner Books, 9780156027014, 672pp.
Publication Date: September 3, 2002
Other Editions of This Title:
Hardcover (10/1/2001)
* Individual store prices may vary.
Description
We were awash in money and spellbound by celebrity and scandal. It was a time of breathtaking strides in science and unprecedented possibility. A time of squandered opportunities and grave distraction. A time of tragic complacency and belief in our invulnerability.

In The Best of Times, Pulitzer Prize-winning journalist Haynes Johnson looks back on the decade that defied anyone's expectations, for better or worse. With a sharp eye for the quote or detail that perfectly captures a moment in time, Johnson tells the whole story, no holds barred, of the roller-coaster, self-indulgent nineties when America paid no attention to gathering foreign storms or looming economic collapse.

The product of four years of interviews with the decade's most influential players, this is in the best tradition of timeless social history--a memorable portrait of the entire wonderful yet woeful decade that ended in the cataclysmic flames of September 11.


A James H. Silberman Book
National Bestseller


Now with a New Foreword, Afterword, and Postscript

In offering this paperback edition of the bubble years, I hope the stories I tell of that newly old America will illuminate how in a few short years we went from the best of times to the worst of times. In my Afterword, I suggest what lessons we must learn from that experience to avoid further disasters and close the circle on some events that typified the period.
--Haynes Johnson
From the new Foreword

About the Author
Haynes Johnson is a Pulitzer Prize-winning journalist and author of the bestsellers Sleepwalking Through History and The Bay of Pigs. He is a regular on The NewsHour with Jim Lehrer and lives in Washington, D.C.
Praise For The Best of Times: The Boom and Bust Years of America before and after Everything Changed…
PRAISE FOR THE BEST OF TIMES

"Informed, balanced and . . . gripping. A vivid and reliable reminder of what we have been through."--The New York Times

"Drawn with insight, care, and an excellent eye for detail . . . Johnson is among the most brilliant chroniclers of our times, and he scores again here."--The Boston Globe

"A magnetic book that every thoughtful American will want to read."--Publishers Weekly

"Beautifully written . . . As full of juicy tidbits as a cherry cake. [Johnson shows] how witty, perceptive and morally grown up American political journalism can be at its best."--The Economist