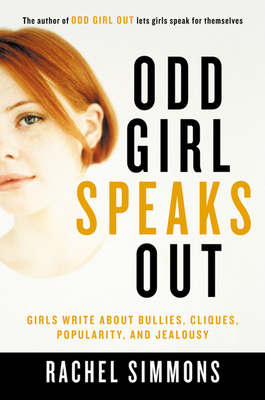 Odd Girl Speaks Out
Girls Write about Bullies, Cliques, Popularity, and Jealousy
Paperback

* Individual store prices may vary.
Description
The national bestseller Odd Girl Out exposed a hidden culture of cruelty that had always been quietly endured by American girls. As Rachel Simmons toured the country, these girls found their voices and spoke to her about their pain. They wanted to talk-and they weren't the only ones. Mothers, teachers, counselors, young professional women, even fathers, came to Rachel with heart-wrenching personal stories that could no longer be kept secret.
Here, Rachel creates a safe place for girls to talk, rant, sound off, and find each other. The result is a collection of wonderful accounts of the inner lives of adolescent girls. Candid and disarming, creative and expressive, and always exceptionally self-aware, these poems, songs, confessions, and essays form a journal of American girlhood. They show us how deeply cruelty flows and how strongly these girls want to change.
Odd Girl Out helped girls find their voices; Odd Girl Speaks Out helps them tell their stories.

I'm always the odd girl out
No one talks to me
I try to be friendly and speak out
But I'm invisible, see?

You know, gossip is a natural thing in high school. I'm one of those girls that will
do it right in front of you. I'll whisper at my friends and look at you the whole time.
Then we'll all cut up laughing. You know we're talking about you.

My best friend and I started being friends with this other girl. But she was fat. It was hard because she always wanted to go down the slide second and she would crush us. We didn't want to tell her she was fat, so we decided to drop her. Her mother called my mother and
told her we were being mean. But we just couldn't be friends with her anymore.

-from Odd Girl Speaks Out

Praise For Odd Girl Speaks Out: Girls Write about Bullies, Cliques, Popularity, and Jealousy…
Praise for Odd Girl Out
"[Simmons] peels away the smiley surfaces of adolescent female society to expose one of girlhood's dark secrets: the vicious psychological warfare waged every day in the halls of our middle schools and high schools."-San Francisco Chronicle

"This is the book we have been waiting for. . . . Simmons has given voice to the girls who struggle everyday with friendships. She has uncovered a hidden world of aggression that unfolds behind adults' backs."-Susan Wellman, president of The Ophelia Project

"Thought-provoking . . . Probes the emotional underpinnings of girls' aggression."-Newsweek

"Revealing.... Young adults will find support, direction, and even a community in their peers' words."<br>

— Booklist
"A heartening book, and tonic for these politically polarized times."

— ElleGIRL
"She's motivated by the victim's pain, but also aware of the pain of the perpetrators and believes they can change."

— Los Angeles Times
Mariner Books, 9780156028158, 208pp.
Publication Date: January 19, 2004
About the Author
RACHEL SIMMONS, best-selling author of
Odd Girl Speaks Out
and
The Curse of the Good Girl
, is an educator and cofounder of the Girls Leadership Institute. A Rhodes Scholar, she has appeared on
Today
,
Oprah
, and other major shows, including her own PBS special, and writes frequently for
Teen Vogue
.
www.rachelsimmons.com