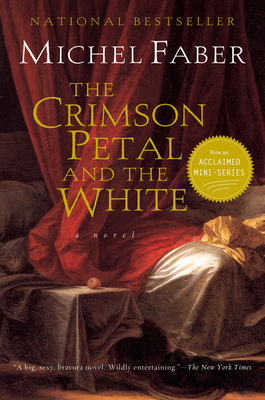 The Crimson Petal and the White
Paperback

* Individual store prices may vary.
Other Editions of This Title:
Paperback (4/1/2011)
Hardcover (9/1/2002)
Description
At the heart of this panoramic, multidimensional narrative is the compelling struggle of a young woman to lift her body and soul out of the gutter. Faber leads us back to 1870s London, where Sugar, a nineteen-year-old whore in the brothel of the terrifying Mrs. Castaway, yearns for escape to a better life. Her ascent through the strata of Victorian society offers us intimacy with a host of lovable, maddening, unforgettable characters. They begin with William Rackham, an egotistical perfume magnate whose ambition is fueled by his lust for Sugar, and whose patronage brings her into proximity to his extended family and milieu: his unhinged, childlike wife, Agnes, who manages to overcome her chronic hysteria to make her appearances during "the Season"; his mysteriously hidden-away daughter, Sophie, left to the care of minions; his pious brother, Henry, foiled in his devotional calling by a persistently less-than-chaste love for the Widow Fox, whose efforts on behalf of The Rescue Society lead Henry into ever-more disturbing confrontations with flesh; all this overseen by assorted preening socialites, drunken journalists, untrustworthy servants, vile guttersnipes, and whores of all stripes and persuasions.
Twenty years in its conception, research, and writing, The Crimson Petal and the White is teeming with life, rich in texture and incident, with characters breathtakingly real. In a class by itself, it's a big, juicy, must-read of a novel that will delight, enthrall, provoke, and entertain young and old, male and female.

Praise For The Crimson Petal and the White…
PRAISE FOR THE CRIMSON PETAL AND THE WHITE
"Don't wait for the movie. Read The Crimson Petal and the White now, while it's still a living, laughing, sweating, coruscating mass of gorgeous words. . . . Words say things even bodies can't. And that's why a book like this is even better than sex."-Time

"A big, sexy, bravura novel that is destined to be surpassingly popular . . . Dear Reader, the author has unpretentiously revived the spirit of the [19th century's] broad, socially conscious narrative tableau."-Janet Maslin, The New York Times

"Nothing could have prepared readers for the sweep and subtlety of The Crimson Petal and the White."-The New York Times Book Review

"A lasting love affair; the intimate relationship one develops with the characters after reading for 834 pages is much more satisfying than the mere one-night-stand promised by other novels."-People

"Cocky and brilliant, amused and angry, the author is rightfully earning comparisons to observer extraordinaire Charles Dickens. . . . It's hopeless to resist."-Entertainment Weekly

"This year's most entertaining novel."-The Boston Globe


"Ambitious and accomplished ... Nothing could have prepared readers for the sweep and subtlety of The Crimson Petal and the White."

— The New York Times Book Review

"Tell[s] a good story grippingly and colorfully ... An old-fashioned page-turner with pleasingly new-fangled twists."

— The Washington Post Book World

"Gorgeous. Capable of rendering the muck of a London street and the delicate humming-bird flights of thought with equal ease."

— Time
Mariner Books, 9780156028776, 928pp.
Publication Date: September 1, 2003
About the Author
Michel Faber's work has been published in twenty countries and received several literary awards. He lives in Scotland.