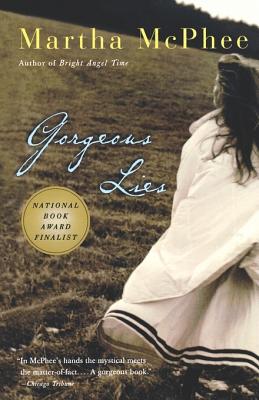 Gorgeous Lies
Paperback

* Individual store prices may vary.
Other Editions of This Title:
Hardcover (9/1/2002)
Description
Acclaimed by critics, Martha McPhee's debut Bright Angel Time established her as a dazzling new talent in American fiction; she fulfills her promise and breaks ambitious new ground with Gorgeous Lies. Charismatic therapist Anton Furey is dying, and the tribe he heads-his five children, his wife's three, and their uniting child, Alice-has returned to Chardin, the farm where they grew up and played out Anton's vision of communal living. They had been famous for being the new American blended family, their utopian lifestyle chronicled by film crews and reporters. But as Anton grows weaker, the hurts and betrayals of those years boil to the surface, and the children find themselves reliving the knotty intimacies they share as they struggle to make their peace with Anton. With shimmering prose and an acutely observant eye, McPhee has created a portrait of an era and a family that explores the limits, and obligations, of love.
Praise For Gorgeous Lies…
PRAISE FOR GORGEOUS LIES
"The greatest strength of Gorgeous Lies is in its multiplicity of perspectives. . . . It's easy to see why the charismatic figures from Bright Angel Time would not loosen their grip on this author."
-The Washington Post Book World

"[McPhee] avoids the extremes of hippie nostalgia and conservative revisionism and doesn't provide any simple answers. . . . Elegant and airy."-Los Angeles Times Book Review



"Gorgeous Lies is a lovely meditation on mortality . . . Brilliantly and convincingly done."
-Larry McMurtry

"McPhee brings sensitivity and insight to her account.... She is an immensely gifted novelist."

"I loved this book. Martha McPhee plainly ranks as one of our country's best young writers."
-Tim O'Brien

"Deftly depicts individuals dealing with old memories and new problems."

"McPhee is a sensuous stylist."

"Fine work: A moving portrait of a foolish, foul-hearted, but impossibly innocent man."
-starred review

"[McPhee]'s prose captures the Chardin mood: Elegant and airy, it seems to levitate even the grubbiest details."

"An unusually strong novel [that] explores the wild frontier of domestic life."

"When McPhee strikes the right rhythm, you don't so much read her prose as live inside it."

"It's easy to see why the charismatic figures from BRIGHT ANGEL TIME would not loosen their grip on this author."
Mariner Books, 9780156028820, 336pp.
Publication Date: October 1, 2003
About the Author
Martha McPhee is the author of Bright Angel Time, a New York Times Notable book, and coauthor with Jenny and Laura McPhee of Girls. She teaches at Hofstra University

and lives in New York City.
or
Not Currently Available for Direct Purchase