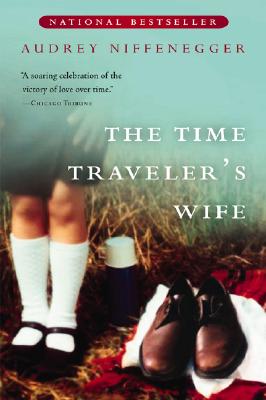 The Time Traveler's Wife
Paperback

* Individual store prices may vary.
Other Editions of This Title:
Digital Audiobook (4/27/2015)
Paperback (5/6/2014)
Paperback, Large Print (9/1/2009)
Compact Disc (4/28/2015)
MP3 CD (4/28/2015)
Description
A dazzling novel in the most untraditional fashion, this is the remarkable story of Henry DeTamble, a dashing, adventuresome librarian who travels involuntarily through time, and Clare Abshire, an artist whose life takes a natural sequential course. Henry and Clare's passionate love affair endures across a sea of time and captures the two lovers in an impossibly romantic trap, and it is Audrey Niffenegger's cinematic storytelling that makes the novel's unconventional chronology so vibrantly triumphant.

An enchanting debut and a spellbinding tale of fate and belief in the bonds of love, The Time Traveler's Wife is destined to captivate readers for years to come.
Praise For The Time Traveler's Wife…
PRAISE FOR THE TIME TRAVELER'S WIFE
An enchanting novel, beautifully crafted and as dazzlingly imaginative as it is dizzyingly romantic."SCOTT TUROW

A powerfully original love story . . . [An] amazing trip."PEOPLE

Niffenegger plays ingeniously in her temporal hall of mirrors."THE NEW YORKER

[This] inventive and poignant writing is well worth a trip."ENTERTAINMENT WEEKLY


"[A] time-travel love story par excellence. . . . [A] soaring celebration of the victory of love over time."

"A powerfully original love story."

Spirited . . . Niffenegger plays ingeniously in her temporal hall of mirrors."

"Tremendous grace and imagination . . . A love story without softness or flinching."
Harvest Books, 9780156029438, 546pp.
Publication Date: July 5, 2004
On the novel"s first page Clare declares, "I wait for Henry." In what way does this define her character, and how is the theme of waiting developed throughout the book?
Just as Clare is defined by her waiting, so Henry is defined by his unpredictable comings and goings. That-along with his hard drinking and proclivities for stealing and beating people up-might be described as stereotypically masculine behavior, just as waiting might be called stereotypically feminine. What keeps these characters from being stereotypes? In what ways does the author give them depth and nuance? For example, at what points in the book do Henry and Clare reverse roles?
Niffenegger portrays Henry's time traveling as the result of a genetic disorder, which is explained at some length later on. How plausible is this explanation-not from a scientific point of view, but from a dramatic or literary one? Do you think that Henry's condition requires an explanation?
How has Henry's personality been shaped by his bouts of chrono-displacement? How does his time traveling affect Clare? In addition, how is Clare affected by meeting her future husband when she is six and seeing him repeatedly throughout her childhood and adolescence before they become lovers? How does the author manage to make their relationship seem eccentric-and even enchanted-rather than sinister?
What is the particular significance of Henry's job as a librarian? What connection do you see between his choice of career and his childhood fascination with the Field Museum?
Along with his frequent trips backward and forward in time, the critical event in Henry's early life is the hideous death of his mother, which he witnesses as a child and revisits compulsively as an adult. How has this event helped shape him and how does it foreshadow other events in the novel?
How does the author manage her novel's fantastically intricate time scheme? For example, where in her narrative does she relate the same incident from different perspectives in order to supply missing information? How does she foreshadow such developments as Ingrid Carmichel's suicide, the birth of Alba DeTamble, and Henry"s death?
Among the curiosities of the book is the way chrono-displacement occasionally causes its protagonists to split and double. At the age of nine Henry is taught pickpocketing by his twenty-seven-year-old self; Henry returns to his thirty-three-year-old wife after making love to her on her eighteenth birthday. After Henry has a vasectomy at the age of thirty-seven, Clare becomes pregnant by a thirty-three-year-old "surrogate." How do Henry and Clare view their younger and older selves? Why, for one thing, aren't they ever jealous of them? And what are this novel's implications about the relationship between time and the self?
In theory Henry's time traveling should make him omniscient-at least as far as his own timeline is concerned-but Clare knows things about him that he does not. What accounts for this? What role does the characters' knowledge-and the gaps in their knowledge-play in the novel?
Closely related to the theme of foreknowledge is the idea of free will. Does Henry"s chrono-instability give him a freedom that Clare lacks, or does it make him more powerless? Discuss Henry"s observation that "there is only free will when you are in time, in the present."
When Henry asks her to describe her artwork, Clare tells him that it's about birds and longing. How do the themes of birds-along with wings and flight-and longing figure elsewhere in this book?
What is the List that Henry makes for Clare, and how does it give the book dramatic momentum? Does Niffenegger employ other devices to similar effect? One of the things that makes a story suspenseful is the reader's sense that events are reaching a climax, that time is running out. How is Niffenegger able to impart this sense to her readers, given Henry's seemingly inexhaustible supply of time?
Both Gomez and Celia warn Clare about Henry. "This guy would chew you up and spit you out . . . He's not at all what you need," says Gomez. Can we simply chalk those warnings down to jealousy, or might the observers be correct? Is Henry more ruthless and amoral than he appears to Clare? How do you interpret Henry's statement: "I'm not exactly the man she's known from earliest childhood. I'm a close approximation she is guiding surreptitiously toward a me that exists in her mind's eye?"
How does the author use time travel as a metaphor: for love, for loss and absence, for fate, for aging, for death? To what extent are Clare and Henry a "normal" couple?