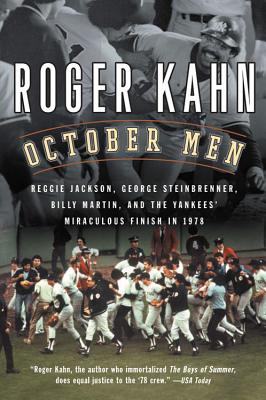 October Men (Paperback)
Reggie Jackson, George Steinbrenner, Billy Martin, and the Yankees' Miraculous Finish in 1978
Mariner Books, 9780156029711, 400pp.
Publication Date: March 15, 2004
* Individual store prices may vary.
Description
On the morning of October 2, 1978, the World Champion NewYork Yankees found themselves tied for first place with the Boston Red Sox. That day these rousing ball clubs would meet at Fenway Park. Both had won ninety-nine games. Only one would win one hundred. The Yankees should have been reaching for their golf clubs-they had feuded until they were fourteen games out of first place. Then their fortunes turned, and they capped one of the most thrilling comebacks in baseball history by defeating the Red Sox that October afternoon in a game that many still remember as the greatest ever played. Transporting us into the midst of this unforgettable team, Roger Kahn weaves the first in-depth account of the legendary season of '78 and reaffirms his standing as our nation's master storyteller of baseball.

About the Author
Widely acclaimed as the greatest baseball writer of his generation, Roger Kahn is most famous for his modern classic, The Boys of Summer, which James Michener called the finest American book on sports. Kahn is the author of 16 books, including The Head Game, Baseball Seen from the Pitchers' Mound. His magazine articles won five Dutton Best Magazine Story Awards and his book The Era: When the Yankees Dodgers and Giants Ruled the World was nominated for a Pulitzer Prize. Born in Brooklyn, he now lives in Stone Ridge, N.Y. with his wife, the psychotherapist Katharine Colt Johnson.
Praise For October Men: Reggie Jackson, George Steinbrenner, Billy Martin, and the Yankees' Miraculous Finish in 1978…
PRAISE FOR OCTOBER MEN
"Not content merely to rehash the details of Bucky Dent's home run,
October Men instead sprawls like a great ballpark conversation,
encompassing the big and the small, the old and the new, the sacred
and the profane."—THE NEW YORK TIMES BOOK REVIEW
"Roger Kahn, the author who immortalized The Boys of Summer,
does equal justice to the '78 crew."—USA TODAY
"Kahn's glittering group portrait paints theYanks as both goats and
heroes, and they are vividly, engagingly, enragingly human in both
roles. . . . He can epitomize a player with a single swing of the pen."
—TIME

"Kahn has the almost unfair gift of easy, graceful writing combined with an unmatched institutional memory."

— Boston Herald
"Insightful and compelling. With crisp, smart writing, he makes the case that the team was a less-than-harmonic convergence."

— Chicago Sun-Times
"History, humor, and drama, but the historical research and psychological analysis give it a place in every baseball fan's collection."

— Dallas Morning News
"Kahn supplies a behind-the-scenes look at what made that team tick but not explode."

— Hartford Courant
"High, hard and tight."

— Toronto Star
"October Men seems effortlessly written, like all of Mr. Kahn's books. . . . A compelling story."

— Wall Street Journal
"Good news for fans of the game, and of words."

— Washington Post