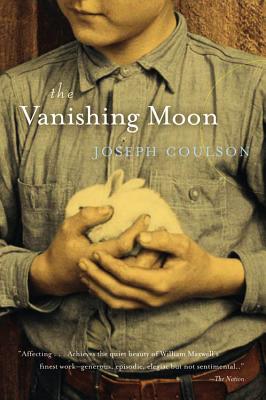 The Vanishing Moon (Paperback)
Mariner Books, 9780156030182, 360pp.
Publication Date: January 31, 2005
Other Editions of This Title:
Hardcover (1/5/2004)
* Individual store prices may vary.
Description
A chorus of candid and poignant voices narrates this novel about a working-class American family who struggles to succeed through five turbulent decades, from the Depression to the Vietnam War. First, Stephen Tollman looks back on his early adventures with his older brother, Philip, as the boys try to shield their younger siblings from the vulnerability of financial ruin. Years later, the vibrant and ambitious Katherine Lennox mesmerizes Stephen and Philip as they both tragically fall in love with her. Then, Philip's son James comes of age in the 1960s, striving to understand his father's deep anger amid a summer of assassinations and civil unrest.

Together, these voices create an insightful, beautiful, and deeply psychological story about the American working class, about the strength and strain of family bonds, and finally, about hardships that haunt the human psyche over a lifetime.


About the Author
Joseph Coulson was born in Detroit in 1957. His full-length play, A Saloon at the Edge of the World (co-authored with William Relling Jr.), was staged as a showcase production in the 1995-96 T.A.M. Season of New American Plays. He has published three books of poetry: Graph, A Measured Silence, and The Letting Go. Coulson has been the recipient of a David Gray Fellowship, selected by Robert Creeley, and the Tompkins Award in Poetry. A literary memoir, short fiction, and literary criticism have appeared in several journals and anthologies including Barnabe Mountain Review, Walt Whitman of Mickle Street, Cemetery Dance, The Critical Survey of Poetry, and The Greenfield Review.<br><br>From 1999-2003, Coulson worked as Senior Editor and Editorial Director at the Great Books Foundation in Chicago, a non-profit educational organization founded by Robert Hutchins and Mortimer Adler. Working with a team of editors, Coulson created and published several books in philosophy, science, and literature, including Modern American Poetry, a major anthology that highlights over forty American poets from Walt Whitman to Li-Young Lee.<br><br>Coulson studied at Wayne State University and Oxford University, and he holds a Ph.D. in American Literature from the State University of New York at Buffalo. His dissertation, Word Music, draws on his experience as a musician, exploring the techniques that poets and musicians share, the similarities between organic form in poetry and improvisational jazz. His talks, workshops and readings, which often include music, have been presented in a variety of settings, including the Michigan Poetry Festival, the Naropa Institute in Boulder, Colorado, Upstairs at the Improv in Los Angeles, and the University of Notre Dame Literary Festival.<br><br>His first novel, The Vanishing Moon, was published by Archipelago Books early in 2004.
Praise For The Vanishing Moon…
PRAISE FOR THE VANISHING MOON
"Coulson's richly textured narrative abounds in passion and wonder." -The San Diego Union-Tribune

"Affecting . . . Achieves the quiet beauty of William Maxwell's finest work-generous, episodic, elegiac but not sentimental." -The Nation