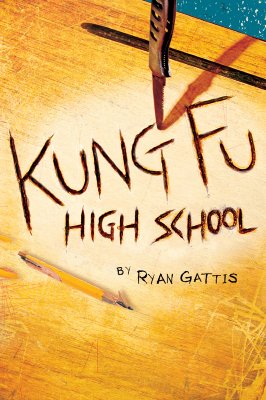 Kung Fu High School (Paperback)
Mariner Books, 9780156030366, 288pp.
Publication Date: September 1, 2005
Other Editions of This Title:
Paperback (9/19/2017)
* Individual store prices may vary.
Description
Wear your gear. Bring your blades. Back your family. Fight for your life.

MLK High School has collapsed into Kung Fu High School--where Jen B. and her brother, Cue, belong to one of two gangs still standing against the puppet principal and the drug kingpin who pulls his strings. Cousin Jimmy--a world-champion martial arts master of mythic stature--arrives in town after swearing to his mother that he'll never fight again. His rep precedes him and everyone's itching to see him "kicked in"--Kung Fu's brutal initiation ritual. But he won't break his vow and defend himself, so Cue steps in when things go too far. Soon, a surprise counterstrike sends Kung Fu spinning toward one final, raging battle. Teachers flee, students break out full weaponry, and Jimmy must make a decision that will brand him a coward--or a hero.
Praise For Kung Fu High School…
"[A] tense, vicious, and heartfelt affair."

"KFHS borrows its cartoon violence from Kill Bill, its urban decay from Fight Club, its mythic timelessness from The Crow."

"Inconceivably graphic violence explodes with the feverish pace and clarity of a video game. A nightmarish, confrontational, and fascinating world."

"You feel every blow, every break. Wnderful, tragic and ultimately cathartic."

"Gripping-it feels like reading a scene from Crouching Tiger, Hidden Dragon so intricate and graceful is the fighting description."

"Action packed and emotionally charged. In step with Chuck Palahniuk and just as damn good."
-Tara O'Donnell

Gattis [is] the spawn of Tarantino and Cormier. Martial arts mayhem as detailed and balletic as a John Woo movie.

"For those who love martial arts movies, such as Crouching Tiger, Hidden Dragon… exhilarating."

"A modern, violent epic, Kung Fu is a bloodied white-knuckle ride that never forgets the consequences of its actions."

"Brett Easton Ellis is about to be eclipsed by another young American, Ryan Gattis."
or
Not Currently Available for Direct Purchase