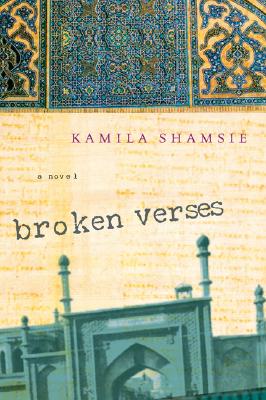 Broken Verses (Paperback)
Mariner Books, 9780156030533, 352pp.
Publication Date: June 1, 2005
* Individual store prices may vary.
Description
Fourteen years ago, famous Pakistani activist Samina Akram disappeared. Two years earlier, her lover, Pakistan's greatest poet, was beaten to death by government thugs. In present-day Karachi, her daughter Aasmaani has just discovered a letter in the couple's private code—a letter that could only have been written recently.

Aasmaani is thirty, single, drifting from job to job. Always left behind whenever Samina followed the Poet into exile, she had assumed that her mother's disappearance was simply another abandonment. Then, while working at Pakistan's first independent TV station, Aasmaani runs into an old friend of Samina's who gives her the first letter, then many more. Where could the letters have come from? And will they lead her to her mother?

Merging the personal with the political, Broken Verses is at once a sharp, thrilling journey through modern-day Pakistan, a carefully coded mystery, and an intimate mother-daughter story that asks how we forgive a mother who leaves.
 
About the Author
KAMILA SHAMSIE's first novel, In the City by the Sea, was shortlisted for the John Llewelyn Rhys/Mail on Sunday Prize. After her second novel, Salt and Saffron, she was named one of the Orange Futures "21 Writers for the 21st century". A recipient of the Award for Literary Achievement in Pakistan, she lives in Karachi and London, where she writes frequently for The Guardian.
Praise For Broken Verses…
PRAISE FOR BROKEN VERSES
"[Shamsie] packs her story with the playful evidence of her high-flying intelligence." —San Francisco Chronicle
"This 30-year-old has been described as a young Anita Desai, and her third book, about childhood, love, life and high society in Karachi during the turbulent 1990s, is worth all the prepublication fuss." —Harper's Bazaar
"A fresh literary look at modern-day Pakistan…[a] beautiful meditation on love, forgiveness, and letting go." —Entertainment Weekly
"Richly woven…There is a succulent pleasure to the narrative that draws you happily to its end." —The Guardian
"This is also a story about parents and children, about Aasmaani trying to make peace with her strange childhood. It is a story about love, as Aasmaani and Shehnaz's son find themselves drawn to each other. And there's politics, to boot. The political backdrop-criticism of America, anxiety about the role of fundamentalists in Pakistani government-remains just that, a backdrop; it never overshadows, but rather somehow expands, the story…A thoroughly captivating tale." —Kirkus Reviews (starred)
"Intriguing, shimmeringly intelligent…Shamsie's crowning triumph." —Publishers Weekly


"Shamsie carries the reader along on Aasmaani's slow journey of discovery with magnetic and beguiling prose, intelligence and wit."

"Admirable. [And] Aasmaani's voice - shifting from anger to vulnerability - drives the intriguing story."

"Broken Verses speaks to the power of words in an age of repression, played against the turbulent history of Pakistan."

"A fresh literary look at modern-day Pakistan. [A] sparse, at times beautiful meditation on love, forgiveness, and letting go. B+."

"An utterly riveting tale. Shamsie has created one of the most compelling characters to appear in recent fiction."

"[The main character] herself is this strong novel's greatest strength. She's a remarkable narrator, in a thoroughly captivating tale."

"A beautifully written tale that is equal parts A.S. Byatt-style mystery and mother-daughter saga. [D]eftly infused with humor and romance."<br>

"This novel is about mothers and daughters, life in a repressive society, and falling in love. Gorgeously written."

"Turbulent Karachi is the backdrop for this intriguing, shimmeringly intelligent fourth novel with its wry, fetching, captivating, and unexpected heroine."

"Shamsie's love for and knowledge of the people of today's Karachi shine through this compelling tale."

"A gripping read."

"Broken Verses isn't just well-written, it's practically poetry. A before-bed-in-front-of-the-fire-with-your-favorite-cup-of-tea read."

or
Not Currently Available for Direct Purchase