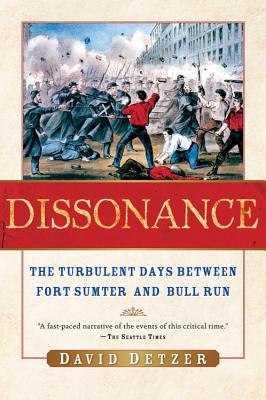 Dissonance (Paperback)
The Turbulent Days Between Fort Sumter and Bull Run
Mariner Books, 9780156030649, 400pp.
Publication Date: May 7, 2007
* Individual store prices may vary.
Description
For two weeks in 1861, Washington, D.C., was locked in a state of panic. Would the newly formed Confederate States of America launch its first attack on the Union by capturing the nation's capital? Would Lincoln's Union fall before it had a chance to fight?

Wedged between Virginia and Maryland—two states bordering on secession—Washington was isolated; its communications lines were cut, its rail lines blocked. Newly recruited volunteers were too few and were unable to enter the city. A recently inaugurated Lincoln struggled to form a plan—defense or attack?



In this final chapter of his trilogy on the Civil War, David Detzer pulls the drama from this pivotal moment in American history straight from the pages of diaries, letters, and newspapers. With an eye for detail and an ear for the voices of average citizens, he beautifully captures the tense, miasmic atmosphere of these first chaotic days of war.
About the Author
David Detzer is professor emeritus of history with Connecticut State University. He is the author of several books, including Allegiance: Fort Sumter, Charleston, and the Beginning of the Civil War; and The Brink: Cuban Missile Crisis, 1962. He lives in Connecticut with his wife and several dogs.
Praise For Dissonance: The Turbulent Days Between Fort Sumter and Bull Run…
PRAISE FOR DISSONANCE

"Clear, enthralling, multifaceted history."—THE PITTSBURGH POST-GAZETTE

PRAISE FOR DONNYBROOK

"A highly readable, comprehensive, and thoughtfully written examination of a pivotal moment in our greatest national tragedy."—CIVIL WAR BOOK REVIEW
"Fast-paced popular history. Detzer has written an engaging and comprehensive account of the early days of the Civil War."

— Publishers Weekly