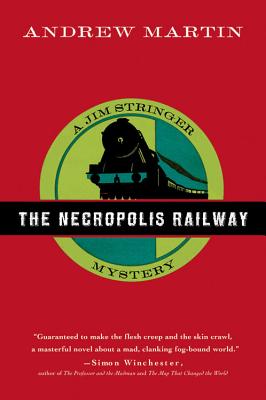 The Necropolis Railway (Paperback)
A Jim Stringer Mystery
Mariner Books, 9780156030687, 256pp.
Publication Date: January 15, 2007
* Individual store prices may vary.
Description
Bright and ambitious, young Jim Stringer moves from the English countryside to London deter- mined to become a railway man. It is 1903, the dawn of the Edwardian age, when steam runs the nation and the railways drive progress. Jim can't believe his luck to have gotten his foot in the door at South East Railway, run out of Waterloo Station. He finds, however, that his duties involve a graveyard shift, literally—a railway line that takes coffins from London morgues to the gigantic new cemeteries being dug in the city's outskirts. He also learns that his predecessor had disappeared and that his coworkers seem to have formed an instant loathing for him. Forced to live by his wits and to arrive at his own deductions—assisted by his landlady, for whom he falls— he tries to figure out what is going on before he is issued a one-way ticket on the Necropolis Railway.
About the Author
ANDREW MARTIN was a Spectator (London) Young Writer of the Year and has written for the Guardian , the Daily Telegraph , and Granta . He has a weekly column in the New Statesman . He lives in London.
Praise For The Necropolis Railway: A Jim Stringer Mystery…
"Guaranteed to make the flesh creep and the skin crawl. A masterful novel about a mad, clanking, fog-bound world."--Simon Winchester, author of The Professor and the Madman and The Map That Changed the World
"A classy potboiler . . . in the best traditions of Dickens and Collins (let alone Christie and Chandler)." --The Times (London)
"...This suspense-filled debut...will appeal to those who like mysteries with unusual settings."
— Library Journal
"Andrew Martin succeeds brilliantly at re-creating a railwayman's lot."
— The Seattle Times
"The atmosphere is first-rate: Martin does a stunning job of bringing to life the era when steam locomotives chugged from London through the British countryside...The lurid tone and Jim's growing uneasiness lead to a supremely scary climax."
— Booklist
"Martin's debut, loaded with railway lore, pairs a lively, often macabre look at turn-of-the century London with bang-up mystery." (Starred review)
— Kirkus