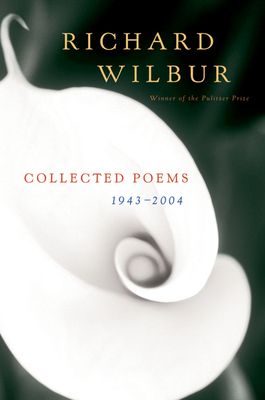 Collected Poems 1943-2004
Paperback

* Individual store prices may vary.
Other Editions of This Title:
Hardcover (12/1/2004)
Description
With a distinguished career spanning more than sixty years, Richard Wilbur stands as one of America's preeminent men of letters. Collected Poems 1943-2004 is the comprehensive collection of Wilbur's astonishing, timeless work. It will serve as the most referenced trove of this beloved poet's best verses for many years to come.

In Trackless Woods
In trackless woods, it puzzled me to find
Four great rock maples seemingly aligned,
As if they had been set out in a row
Before some house a century ago,
To edge the property and lend some shade.
I looked to see if ancient wheels had made
Old ruts to which the trees ran parallel,
But there were none, so far as I could tell-
There'd been no roadway. Nor could I find the square
Depression of a cellar anywhere,
And so I tramped on further, to survey
Amazing patterns in a hornbeam spray
Or spirals in a pine cone, under trees
Not subject to our stiff geometries.

Praise For Collected Poems 1943-2004…
PRAISE FOR COLLECTED POEMS 1943-2004

"Collected Poems 1943-2004 is the indispensable Wilbur. The emergence of a poet like Wilbur as a hero to a new generation of critics is cause for hope: that readers, not gatekeepers, might rediscover poems written in the spirit of generosity and care, and disciplined by the idea of an uncaptive audience."--The New York Times Book Review

"The work in these five hundred or so pages has been one of the saving graces of poetry in our time, as beautiful and moving as it is artful and accomplished. This collected edition will see a reader through quiet evenings and noisy Metro commutes, indeed through one's whole life."--The Washington Post Book World

Mariner Books, 9780156030793, 608pp.
Publication Date: April 3, 2006
About the Author
RICHARD WILBUR, one of America's most beloved poets, has served as poet laureate of the United States. He has received the National Book Award, two Pulitzer Prizes, the National Arts Club medal of honor for literature, and a number of translation prizes, including two Bollingen Prizes and two awards from PEN.