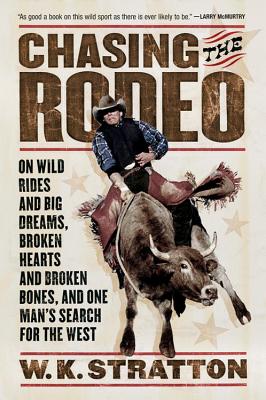 Chasing the Rodeo (Paperback)
On Wild Rides and Big Dreams, Broken Hearts and Broken Bones, and One Man's Search for the West
Mariner Books, 9780156031219, 336pp.
Publication Date: May 1, 2006
Other Editions of This Title:
Hardcover (5/1/2005)
* Individual store prices may vary.
Description
From its roots as the quintessential Western pastime, rodeo has grown to an international, prime-time television sport. Steeped in tradition and the independent spirit of the range, aspiring cowboys and cowgirls are called to its high-stakes, rough-and-tumble fame as they risk their lives for eight seconds of triumph.

In Chasing the Rodeo W. K. Stratton follows this quest for one season of the pro rodeo and bull-riding tours. He explores the history of the chutes -- from rodeo's disputed origins (Prescott, Arizona, or Pecos, Texas?) to its current skyrocketing popularity. But out on the trail Stratton finds more than calf-roping and unrideable bulls, uncovering a culture complete with myths, codes of honor, million-dollar purses, Cowboy Church, and the kinds of legends that make good stories unforgettable.

Just such a story emerges here as Stratton tells of his runaway "rodeo bum" father --Cowboy Don -- whose specter haunts his travels on the circuit. As he learns more about the life that proved too seductive for his father to abandon, Stratton fills in a portrait of the man he never knew but whose legacy he couldn't help but inherit.

Filled with cowboy longing and rodeo dreams, this is a tribute to the characters of the West -- Freckles Brown, Lucille Mulhall (the first cowgirl), Wild Bill Hickock, Lane Frost, and today's superstars like Jesse Bail. In the great tradition of Wallace Stegner and Ken Kesey, W. K. Stratton fashions an expansive tale out of the gritty reality of the life around us. Chasing the Rodeo is a bucking, riveting, glorious ride -- you'll want to hang on for the whole go-round.




About the Author
W.K. (Kip) Stratton is the author of four books, including Backyard Brawl, Chasing the Rodeo, and Boxing Shadows. He has written for GQ, Sports Illustrated, Outside, Texas Observer, the Dallas Morning News, and others.  He lives near Austin, Texas.
Praise For Chasing the Rodeo: On Wild Rides and Big Dreams, Broken Hearts and Broken Bones, and One Man's Search for the West…
PRAISE FOR BACKYARD BRAWL
"Backyard Brawl is well-researched and entertaining, and it's a credit to Stratton-a naturalized Texan-that he can weave the stories of past and present together without turning it into a book-sized version of either school's phone-book-size football media guides."
-SAN ANTONIO EXPRESS-NEWS

"Aside from this book's obvious appeal to sports fans and others, it had the power to make a non-fan like myself go introspective. This is the function of art."-THE DALLAS MORNING NEWS


"A memorable ride through the bumpy, bucking history of a gritty American pastime."

— Austin American Statesman
"A "can't put it down" read that tells much about the top rodeos and competing cowboys of today and yesteryear." <br>

— Gail Hughbanks Woerner
"Stratton demonstrates vividly that rodeo has always been as richly diverse as the country that gave it birth."

— Geoffrey C. Ward
"A gem of a book. It sings. It is beautifully written. It vibrates with life. It is a treasure."

— Jim Lehrer
"A big-hearted, enjoyable ride into our national identity; where myth collides with reality, and nothing is ever what it seems."

— Ken Burns
"Vivid rodeo life and lore for armchair cowpoked and bowlegged hands alike, by a devoted 'kicker with a literary bent.'"<br>

— Kirkus
"Informative, engaging, moving. It's as good a book on this wild sport as there is ever likely to be."

— Larry McMurtry
"Fascinating. It's hard not to come away without a sense of appreciation that the world of cowboys isn't really lost."

— msnbc.com
"Chasing the Rodeo demonstrates rodeo's rich tradition, and it vividly illuminates the trials both inside and outside the ring."

— Publishers Weekly
"A celebration of hard play. Worth the trouble of saddling up and follow[ing] along."

— Rocky Mountain News
This book reveals rodeo in all its truth and myths, all its glory and brutality.

— Salem Statesman Journal
"Even if you consider yourself an expert, this book will surprise and charm you with fascinating tales and heartfelt insight."

— Sarah Bird