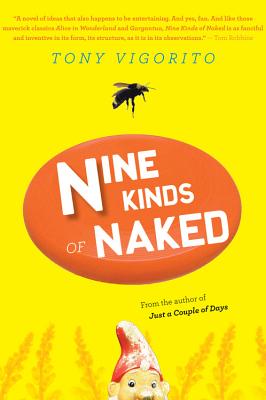 Nine Kinds of Naked (Paperback)
Mariner Books, 9780156031233, 402pp.
Publication Date: October 6, 2008
Description
Join cult favorite Tony Vigorito in his acclaimed, surreal whirlwind of a novel exploring chaos theory. A prisoner spins a playing card into a somersault, stirring a wind that becomes a tornado that takes off the roof of a church in nearby Normal, Illinois. Elizabeth Wildhack is born in that church and someday she will meet that prisoner, a man named Diablo, on the streets of New Orleans--where a hurricane-like Great White Spot hovers off the coast. But how is it all interconnected? And what does it have to do with a time-traveling serf and a secret society whose motto is "Walk away?"

"Linguistic gymnastics abound... Vigorito demonstrates once again that he's a wild stylist... startlingly original... an entertaining anarchist..." --The Chicago Sun-Times
Praise For Nine Kinds of Naked…
PRAISE FOR JUST A COUPLE OF DAYS

"Just a Couple of Days is a lyrical, thoughtful, viral meme of a book. Read it!"—Christopher Moore, author of Lamb and A Dirty Job

"Another whimsical tale of time, space, coincidence and cause and effect.  The author displays most of the linguistic acrobatics and playful rumination that made his debut a cult classic...In the tradition of Douglas Adams and Tom Robbins, much of the book is given over to philosophical musings about the connection among all things."
"With this strange carnival of a book, Vigorito has scored himself a permanent plot in the neighborhood of the American surrealist novel. The breadth of his imagination and the sheer exuberance of his writing cannot be ignored."
-Neal Pollack
"Nine Kinds of Naked offers ten distinct varieties of literary satisfaction, including metaphysical highjinks, libidinous lowjinks, hermeneutic mind games, Gordian plot twists, cognitive estrangement, linguistic surrealism, stylistic pyrotechnics, laugh-out-loud jokes, scrappy extrapolations, and the synergistic sum of the above. Acquire and read this demented epic before God has a chance to do so, for he is certain to condemn its polymorphous pleasures as sinful."
-James Morrow
"
Nine Kinds of Naked
is a philosophical examination of the Butterfly Effect and the proposition that love is indestructible. It''s a tale of consequence, causation, and the logical fallacy of post hoc ergo propter hoc. It''s like scuffling with a naked and unreasonably cheerful version of yourself in a time not of your own choosing. It''s safe to say that no one corrupts the space-time continuum like Tony Vigorito."
-Bill Fitzhugh
"Tony Vigorito has grown a cult following of thousands for one reason--his stuff is fun to read. It''s hallucinogenic. It''s innocent, whimsical, sometimes silly even, but filled with the freshness and the freewheeling independence that made his reputation."
-Kris Saknussemm
"Nine Kinds of Naked is a wildly spinning tornado of beautiful fresh air. It''ll blow its quixotic winds up your nose and make even the most cynical want to tear off their clothes and dance buck naked in the streets."
-Chris Genoa
"Comparisons of this novel to the works of Tom Robbins are both obvious and appropriate: the story meanders around in an entertaining manner, never getting too serious about itself; the characters are splendidly loopy, close to caricature but never quite reaching it, and the situations in which they find themselves are comic, dramatic, and everything in between."
"Fans of Vigorito''s originally self-published 2007 cult hit
Just a Couple of Days
will have a ball with this hyperactive, zany novel."
Channeling the spirited humor of Douglas Adams's ''The Hitchhiker's Guide to the Galaxy'' series, Vigorito suspends the rules of time and space . . . Vigorito's is a crisp, sardonic voice.
Vigorito writes in adjective-rich prose...[the] style makes for a lyrical adventure that complements the surreal plot.
Part quirky love story, part philosophical manifesto, and part metaphysical mystery, Nine Kinds of Naked is almost more musical dance than written word. Tony Vigorito's book on life, and those things outside the boundaries of the traditional plane, is right at home with the works of Tom Robbins and Christopher Moore...a quizzical and psychedelic look at the nature of the Butterfly Eff ect."
[F]illed with style and sarcasm. Incredibly, this is one of the few novels one could pick up at any arbitrary page and enjoy....Nine Kinds of Naked is an imaginative, amusing dive into the (literal) eye of a storm and is a fresh take on the "six degrees" theory.
Nine Kinds of Naked will remind many readers of such mischiefmakers as Tom Robbins, Douglas Adams, Kurt Vonnegut, and Robert Anton Wilson.
Fans of Vigorito''s originally self-published 2007 cult hit
Just a Couple of Days
 will have a ball with this hyperactive, zany novel.
Advertisement