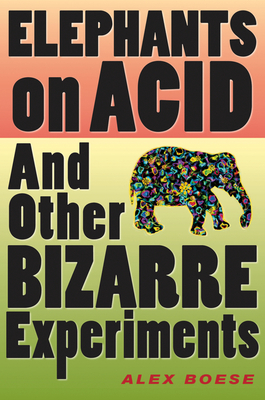 Elephants on Acid (Paperback)
And Other Bizarre Experiments
Mariner Books, 9780156031356, 304pp.
Publication Date: November 5, 2007
* Individual store prices may vary.
Description
When Tusko the Elephant woke in his pen at the Lincoln Park Zoo on the morning of August 3, 1962, little did he know that he was about to become the test subject in an experiment to determine what happens to an elephant given a massive dose of LSD. In Elephants on Acid, Alex Boese reveals to readers the results of not only this scientific trial but of scores of other outrageous, amusing, and provocative experiments found in the files of modern science.
Why can't people tickle themselves? Would the average dog summon help in an emergency? Will babies instinctually pick a well-balanced diet? Is it possible to restore life to the dead? Read Elephants on Acid and find out.
About the Author
Recognized as a hoaxpert by CNN and the New York Times, among others, ALEX BOESE holds a master's degree in the history of science from the University of California, San Diego. He is the author of The Museum of Hoaxes and the creator and curator of www.museumofhoaxes.com. He lives in San Diego.
Praise For Elephants on Acid: And Other Bizarre Experiments…
PRAISE FOR HIPPO EATS DWARF

"Do you faithfully follow the commands of every e-mail chain letter? Do you worry about losing your kidneys in a freak robbery/mutilation? Concerned about the tapeworm diet? If you answered 'yes' to any of these questions, please check out . . . Hippo Eats Dwarf . . . Learn it. Live it. Don't ever forward another e-mail chain letter again."—Sacramento Bee

PRAISE FOR MUSEUM OF HOAXES

"As entertaining as it is well researched."—Entertainment Today