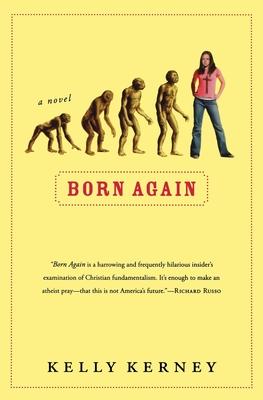 Born Again (Paperback)
Harvest Books, 9780156031455, 312pp.
Publication Date: September 1, 2006
Description
What happens when a Bible Quiz Champion takes on Darwin? Mel, a faith-filled Pentecostal, has the chance to escape Slow Rapids, Indiana, by attending academic summer camp. The only catch? She has to read forbidden tomes like The Origin of Species . So she forges the permission slip, promising God she ll bring him a lost soul in exchange.
Mel conscientiously uses her Biblical expertise to argue Darwin's theories, but meanwhile begins to realize that her parents, her pastor, and her church aren t what she thought. She zealously battles demons every day lascivious heathens at school, the Frederick's of Hollywood catalog, her backsliding brother and sister. But now, suddenly, she must also conquer the doubts of her own heart.

About the Author
KELLY KERNEY received a BA from Bowdoin College and an MFA from the University of Notre Dame, where she was awarded the Nicholas Sparks postgraduate fellowship. Raised in a Pentecostal church, she is twenty-six years old and lives in Richmond, Virginia.
Advertisement