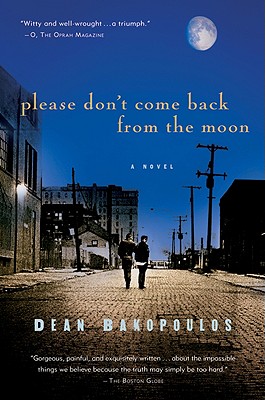 Please Don't Come Back From The Moon
Paperback

* Individual store prices may vary.
Description
The summer Michael Smolij turns sixteen, his father disappears. One by one other men also vanish from the blue-collar neighborhood outside Detroit where their fathers before them had lived, raised families, and, in a more promising era, worked. One man props open the door to his shoe store and leaves a note. "I'm going to the moon," it reads. "I took the cash."

The wives drink, brawl, and sleep around, gradually settling down to make new lives and shaking off the belief in an American dream that, like their husbands, has proven to be a thing of the past. Unable to leave the neighborhood their fathers abandoned, Michael and his friends stumble through their twenties until the restlessness of the fathers blooms in them, threatening to carry them away.

This is a haunting, unforgettable novel for anyone who has ever been left longing.
Praise For Please Don't Come Back From The Moon…
PRAISE FOR PLEASE DON'T COME BACK FROM THE MOON
"A beautifully smart, comic, and moving narrative about the fathers who disappear and the sons who take their place, Please Don't Come Back from the Moon is somehow both realistic and visionary . . . This is a wonderful book." -Charles Baxter, author of The Feast of Love

"Families, heartbreak, political and social comedy-there is little that Dean Bakopoulos doesn't grasp in an articulate, wittily perceptive, and soulful way, before he hands it back to the reader as literary art. Please Don't Come Back from the Moon is an original and brilliant first work of fiction."--Lorrie Moore
—
Ecco, 9780156031677, 288pp.
Publication Date: January 2, 2006
About the Author
Dean Bakopoulos is the author of the novel Please Don't Come Back from the Moon, a New York Times Notable Book, and the recipient of fellowships from the National Endowment for the Arts and the Guggenheim Foundation. He is on the faculty at Iowa State University and the Warren Wilson MFA Program for Writers.