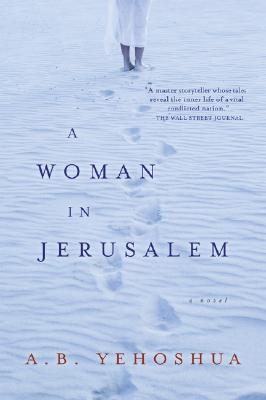 A Woman in Jerusalem (Paperback)
Harvest Books, 9780156031943, 237pp.
Publication Date: August 6, 2007
Description
A woman in her forties is a victim of a suicide bombing at a Jerusalem market. Her body lies nameless in a hospital morgue. She had apparently worked as a cleaning woman at a bakery, but there is no record of her employment. When a Jerusalem daily accuses the bakery of "gross negligence and inhumanity toward an employee," the bakery's owner, overwhelmed by guilt, entrusts the task of identifying and burying the victim to a human resources man. This man is at first reluctant to take on the job, but as the facts of the woman's life take shape--she was an engineer from the former Soviet Union, a non-Jew on a religious pilgrimage to Jerusalem, and, judging by an early photograph, beautiful--he yields to feelings of regret, atonement, and even love. At once profoundly serious and highly entertaining, A. B. Yehoshua astonishes us with his masterly, often unexpected turns in the story and with his ability to get under the skin and into the soul of Israel today.
Praise For A Woman in Jerusalem…
PRAISE FOR A WOMAN IN JERUSALEM
"The force and deceptive simplicity of a masterpiece . . . embedded in this simple story are fundamental questions about identity, selfhood, belonging."CLAIRE MESSUD, THE NEW YORK TIMES BOOK REVIEW"A sad, warm, funny book . . . that has deep lessons to impart."THE ECONOMIST
"This mysterious, quiet meditation on Jerusalem is, I think, about something much greater [than Israel''s "problems and identity."] The manager . . . trying to make some meaning of . . . pointless, violent death, as all the structures of his own life fall apart around him, is a figure much bigger and much sadder than even the horrific reality of Israel can suggest."
-Neil Gordon
"Yehoshua is examining a deeper
"The author beautifully renders a humanity that transcends culture and ritual, the distinctly personal engagement of a lonely man and the woman in his care, no obstacle too great in a quest for the fulfillment of a promise."
"[An] astonishing new novel...Like sacred music, the deepest chords resound."
"A moving, unsentimental reckoning with death and renewal."
"[T]he writing is beautifully exact and the moral issues delivered with an understated authority."
-Barbara Hoffert
"An elegantly structured, thoroughly accessible story, albeit one with rich philosophical layers...A WOMAN moves us with deep insights into the meaning of home, belonging and the fate of the stranger."
New York Times Book Review "100 Notable Books of the Year."
"This novel has about it the force and deceptive simplicity of a masterpiece: terse, eminently readable but resonantly dense."
-Claire Messud
Publisher''s Weekly "Best Books of the Year" list.
"What engages Mr. Yehoshua most here is the question of humanity...Yet his evocation of what it means to be human is drawn in the subtlest strokes...A sad, warm, funny book about Israel and being Jewish, and one that has deep lessons to impart--for other people as well as his own."
"Compelling reading...[A Woman in Jerusalem] is a realistic tale of everyday life in Israel, gracefully told, that sometimes has a mythic quality; at other times it is playful."
"A WOMAN IN JERUSALEM is a book about a mission and a memorial...But while the novel is always aware of the sorrows of modern Israel, it soars on wry, wise wings far above the battered landscape...The result is a small masterpiece, a compact, strange work of Chekhovian grace, grief, wit and compassion."
Advertisement