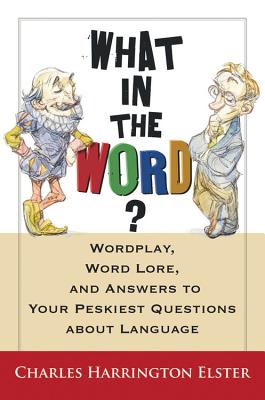 What in the Word? (Paperback)
Wordplay, Word Lore, and Answers to Your Peskiest Questions about Language
Mariner Books, 9780156031974, 304pp.
Publication Date: November 1, 2005
* Individual store prices may vary.
Description
Are you so sure about "assure," "ensure," and "insure"? Can you determine whether a knob of butter is equivalent to a lump or a pat or a scosh? Can you say which word in the English language has the most definitions, or who put the H in Jesus H. Christ?

If you can't, be assured that Charles Harrington Elster, author of several well-loved works on language, can—and does in his latest book, a delightfully designed compendium of the most common, interesting, and entertaining conundrums in our language. Drawing upon esoteric sources and his own inimitable expertise, Elster uses a lively question-and-answer format to cover a variety of topics—word and phrase origins, slang, style, usage, punctuation, and pronunciation. Every chapter features original brainteasers, challenging puzzles, and a trove of literary trivia.
About the Author
CHARLES HARRINGTON ELSTER is a writer, broadcaster, and logophile-a lover of words. He is the author of several books, including The Big Book of Beastly Mispronunciations, Verbal Advantage, and There's a Word for It. He is also a guest contributor to the "On Language" column of the New York Times Magazine. He lives in San Diego.
Praise For What in the Word?: Wordplay, Word Lore, and Answers to Your Peskiest Questions about Language…
PRAISE FOR THE BIG BOOK OF BEASTLY MISPRONUNCIATIONS

"Ek-STROR-di-ner-ee. The best survey of the spoken field in years."--William Safire, The New York Times Magazine