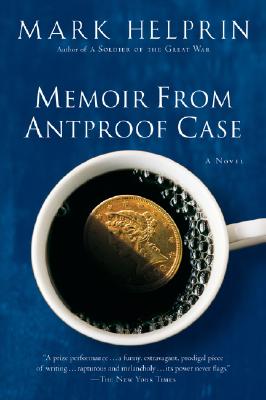 Memoir From Antproof Case (Paperback)
Mariner Books, 9780156032001, 528pp.
Publication Date: August 6, 2007
* Individual store prices may vary.
Description
An old American who lives in Brazil is writing his memoirs. An English teacher at the naval academy, he is married to a woman young enough to be his daughter and has a little son whom he loves. He sits in a mountain garden in Niterói, overlooking the ocean.

As he reminisces and writes, placing the pages carefully in his antproof case, we learn that he was a World War II ace who was shot down twice, an investment banker who met with popes and presidents, and a man who was never not in love. He was the thief of the century, a murderer, and a protector of the innocent. And all his life he waged a valiant, losing, one-man battle against the world's most insidious enslaver: coffee.

Mark Helprin combines adventure, satire, flights of transcendence, and high comedy in this "memoir" of a man whose life reads like the song of the twentieth century.
About the Author
MARK HELPRIN is the acclaimed author of Winter's Tale, A Soldier of the Great War, Freddy and Fredericka, The Pacific, Ellis Island, Memoir from Antproof Case, and numerous other works. His novels are read around the world, translated into over twenty languages.
Praise For Memoir From Antproof Case…
PRAISE FOR MEMOIR FROM ANTPROOF CASE

"A prize performance . . . A funny, extravagant, prodigal piece of writing . . . rapturous and melancholy . . . its power never flags."—THE NEW YORK TIMES

"Splendidly entertaining . . . Joyce and Nabokov could produce verbal astonishments as readily. Not many others come to mind."—TIME