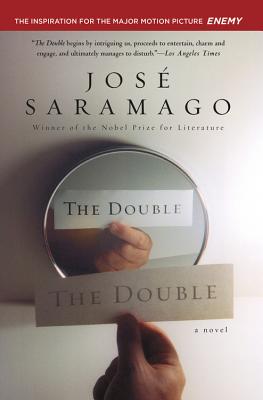 The Double (Paperback)
Mariner Books, 9780156032582, 336pp.
Publication Date: October 3, 2005
Other Editions of This Title:
Hardcover (10/4/2004)
Paperback (10/1/2005)
* Individual store prices may vary.
Description
The inspiration for the major motion picture "Enemy" starring Jake Gyllenhaal and directed by Denis Villeneuve
Tertuliano Máximo Afonso is a divorced, depressed history teacher. To lift his spirits, a colleague suggests he rent a certain video. Tertuliano watches the film, unimpressed. But during the night, when he is awakened by noises in his apartment, he goes into the living room to find that the VCR is replaying the video. He watches in astonishment as a man who looks exactly like him-or, more specifically, exactly like he did five years before, mustachioed and fuller in the face-appears on the screen. He sleeps badly.

Against his better judgment, Tertuliano decides to pursue his double. As he roots out the man's identity, what begins as a whimsical story becomes a "wonderfully twisted meditation on identity and individuality" (The Boston Globe). Saramago displays his remarkable talent in this haunting tale of appearance versus reality.


About the Author
JOSÉ SARAMAGO (1922–2010) was the author of many novels, among them Blindness, All the Names, Baltasar and Blimunda, and The Year of the Death of Ricardo Reis. In 1998 he was awarded the Nobel Prize for Literature.
MARGARET JULL COSTA has established herself as the premier translator of Portuguese literature into English today.
Praise For The Double…
PRAISE FOR THE DOUBLE

"In varying proportions [Saramago] is melancholy, funny, scary and socially enraged. Such elements have rarely worked better together than in The Double. It's tempting to think of it as his masterpiece."--The New York Times

"Saramago has the gift of gab. Our impression is of a writer, like Faulkner, so confident of his resources and ultimate destination that he can bring any impossibility to life by hurling words at it."--John Updike, The New Yorker



"THE DOUBLE begins by intriguing us, proceeds to entertain, charm and engage, and ultimately manages to disturb."

— Merle Rubin
"[Saramago's] take on the theme is clever, alarming and blackly funny"

— Richard Eder
"Saramago's observations come in small bursts that lift themselves up in startling truth and beauty."

— San Francisco Chronicle
"THE DOUBLE is another haunting book... from a writer who seems to produce masterpiece after masterpiece"

— The New Leader
"[Saramago is] a writer, like Faulkner, so confident of his resources and ultimate destination that he can bring any improbability to life"

— John Updike
"What satisfying pleasure it is to be told this cautionary tale by a teller at the peak of his wisdom and sly wit."

— Trenton Times