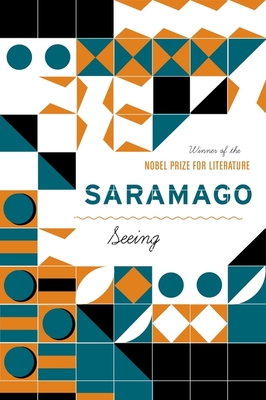 Seeing (Paperback)
Mariner Books, 9780156032735, 320pp.
Publication Date: April 9, 2007
* Individual store prices may vary.
Description
On election day in the capital, it is raining so hard that no one has bothered to come out to vote. The politicians are growing jittery. Should they reschedule the elections for another day? Around three o'clock, the rain finally stops. Promptly at four, voters rush to the polling stations, as if they had been ordered to appear.

But when the ballots are counted, more than 70 percent are blank. The citizens are rebellious. A state of emergency is declared. But are the authorities acting too precipitously? Or even blindly? The word evokes terrible memories of the plague of blindness that hit the city four years before, and of the one woman who kept her sight. Could she be behind the blank ballots? A police superintendent is put on the case.

What begins as a satire on governments and the sometimes dubious efficacy of the democratic system turns into something far more sinister. A singular novel from the author of Blindness.
About the Author
JOSÉ SARAMAGO (1922–2010) was the author of many novels, among them Blindness, All the Names, Baltasar and Blimunda, and The Year of the Death of Ricardo Reis. In 1998 he was awarded the Nobel Prize for Literature.
MARGARET JULL COSTA has established herself as the premier translator of Portuguese literature into English today.
Praise For Seeing…
PRAISE FOR SEEING

"Saramago understands that ridicule is a terrifically effective political weapon, and in Seeing he makes it his business to turn repression into farce."—THE NEW YORK TIMES BOOK REVIEW

"The clarity and compassion of [Saramago's] vision make Seeing worthy of its name and its author."—THE WASHINGTON POST BOOK WORLD
"I have never read a novel that gets so many details of the political behavior that we for some reason insist on calling 'organized' so hilariously and grimly right."

— Jack Fuller
"Saramago's unsettling allegory of power and politics . . . stays with you long after the last page is turned."


— Scott Stephens
"We live in age when democracy is being touted as the panacea to the world's ills -- and not just abroad. 'Seeing' suggests a more complicated scenario. It offers that democracy is welcome in our times: that is, so long as it produces the results those in power want."

— John Freeman
"[A]nother invaluable gift from a matchless writer"

— Kirkus Reviews
"Saramago's clear eye for acknowledging things as they are barrages us with valuable insights suggesting that the dynamics of human governance are not as rational as we like to think"

— Library Journal
"[A] searching, dry-witted, spot-on political parable ..."

— Chris Lehmann
"Saramago has a taste for alternative realities, for the use of fiction as a form of speculation."


— Michael Wood