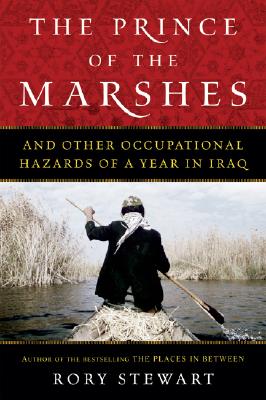 The Prince of the Marshes (Paperback)
And Other Occupational Hazards of a Year in Iraq
Mariner Books, 9780156032797, 448pp.
Publication Date: April 1, 2007
Other Editions of This Title:
Hardcover (8/1/2006)
* Individual store prices may vary.
Description
In August 2003, at the age of thirty, Rory Stewart took a taxi from Jordan to Baghdad. A Farsi-speaking British diplomat who had recently completed an epic walk from Turkey to Bangladesh, he was soon appointed deputy governor of Amarah and then Nasiriyah, provinces in the remote, impoverished marsh regions of southern Iraq. He spent the next eleven months negotiating hostage releases, holding elections, and splicing together some semblance of an infrastructure for a population of millions teetering on the brink of civil war.

The Prince of the Marshes tells the story of Stewart's year. As a participant he takes us inside the occupation and beyond the Green Zone, introducing us to a colorful cast of Iraqis and revealing the complexity and fragility of a society we struggle to understand. By turns funny and harrowing, moving and incisive, it amounts to a unique portrait of heroism and the tragedy that intervention inevitably courts in the modern age.

About the Author
RORY STEWART is the best-selling author of The Places in Between and The Prince of the Marshes. A former director of the Carr Centre for Human Rights Policy and Ryan Professor of Human Rights at Harvard's Kennedy School of Government, he was awarded the Order of the British Empire for services in Iraq. He is the Conservative member of Parliament for Penrith and The Border, a constituency in Northern Cumbria, where he lives with his wife.
Praise For The Prince of the Marshes: And Other Occupational Hazards of a Year in Iraq…
PRAISE FOR THE PRINCE OF THE MARSHES

"Rueful, richly detailed, often harrowing . . . [Stewart] brings his yearlong diary to a conclusion with a thrilling shoot 'em-up, an Alamo-like last stand in Nasiriya, where Sadrist forces attack coalition offices with mortars."—THE NEW YORK TIMES

"Rory Stewart can write . . . His spare, vivid prose serves him brilliantly . . . There's sometimes something Monty Pythonesque about the way he sails gallantly, if not quite blindly, into danger."—MICHAEL UPCHURCH, THE SEATTLE TIMES
"A thoroughly readable book."

— Christian Science Monitor
"A surreal and futile yearlong struggle, scrupulously recounted...Stewart is a fearless reporter and smart observer."

— Entertainment Weekly
"Rudyard Kipling meets Dilbert in this engrossing memoir."

— Kirkus Reviews
"[Stewart's] spare, vivid, understated prose serves him brilliantly."

— Seattle Times
"Richly detailed, often harrowing...Stewart seems to be living one of the more extraordinary lives on record."

— The New York Times
"Both shrewd and self-deprecating...Recalls an earlier generation of British travel writer."

— The New Yorker