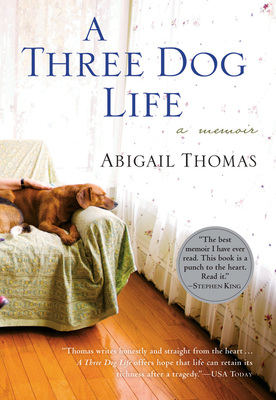 A Three Dog Life (Paperback)
Mariner Books, 9780156033237, 208pp.
Publication Date: September 10, 2007
Other Editions of This Title:
Hardcover (9/5/2006)
* Individual store prices may vary.
Description
When Abigail Thomas's husband, Rich, was hit by a car, his brain shattered. Subject to rages, terrors, and hallucinations, he must live the rest of his life in an institu­tion. He has no memory of what he did the hour, the day, the year before. This tragedy is the ground on which Abigail had to build a new life. How she built that life is a story of great courage and great change, of moving to a small country town, of a new family composed of three dogs, knitting, and friendship, of facing down guilt and discovering gratitude. It is also about her relationship with Rich, a man who lives in the eternal present, and the eerie poetry of his often uncanny perceptions. This wise, plainspoken, beautiful book enacts the truth Abigail discovered in the five years since the acci­dent: You might not find meaning in disaster, but you might, with effort, make something useful of it.
About the Author
ABIGAIL THOMAS is the author of Safekeeping, a memoir, as well as a novel and two story collections. She lives in Woodstock, New York, and teaches at the New School.
Praise For A Three Dog Life…
ADVANCE PRAISE FOR A THREE DOG LIFE
"A Three Dog Life is, I think, the best memoir I have ever read. It's sad, terrifying, and scorchingly honest. It's also a testament to the power of love, suggesting that even when love isn't enough…somehow, it is. This book is a punch to the heart. Read it."--Stephen King
"Abigail Thomas's many gifts as a writer and deeply generous person show us what is possible when two brave people examine a reconfigured life—one that conjures the uncanny, spotlights the power of art, and amplifies the meaning and reach of love."--Amy Hempel, author of Reasons to Live, Tumble Home, and The Dog of the Marriage
"Thomas has elevated what could be, at best, an overemotional sermon or, at worst, a grim romp in self-pity to a high plain of true inspiration." -- Booklist
"A tragedy with much comic relief." -- Boston Globe
"A memorable account of how tragic loss can lead to ineffable moments of surpassing love and miraculous change." -- Elle Magazine
"Thomas tells an extraordinary, but horrific, love story." -- Entertainment Weekly
"Heartbreaking...Thomas writ[es]...with lots of grace and little self-pity." -- Glamour
"Resounding...the clarity is stunning." -- LA Times
"Illuminates a new life built on tragedy but not tragic." -- Newsday
"This memoir could be a fall sleeper...the perfectly honed observations of a clear-eyed and witty-writer." -- Newsweek
"The startling power and beauty of Abigail Thomas's memoir comes...from her refusal to surrender the shards of a loving relationship." -- O Magazine
"...an unpretentious story about coming to terms with tragedy and lost dreams." -- Orlando Sentinel
"This haunting memoir is slim but wields enormous impact...this book tackles the largest of human subjects--love and loss." -- People
"Here, love can't exactly conquer all, but it assumes radically new, stunning shapes." -- Time Out NY
"Thomas writes honestly and straight from the heart...[and] offers hope that life can retain its richness after tragedy." -- USA Today
"Thomas...fac[es] reality with courage, bursts of anger, patience, and dark humor. What resonates most, though, is her generosity..." -- Vanity Fair
"From the depths of catastrophe, she has crafted a painfully honest and loving portrait of the irrevocably altered life she finds herself leading. The stories are few, the moments are spare, but what Thomas tells us is shot through with light." -- Washington Post