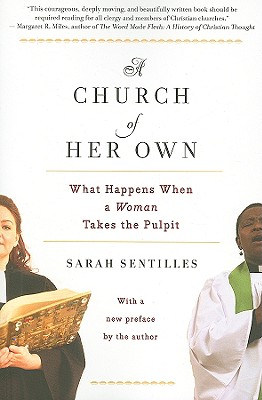 A Church of Her Own: What Happens When a Woman Takes the Pulpit (Paperback)
What Happens When a Woman Takes the Pulpit
Mariner Books, 9780156033329, 338pp.
Publication Date: April 1, 2009
Description
Women have been among the most dynamic and successful ministers in all Protestant denominations; but in divinity school, Sarah Sentilles discovered that some of the best and brightest were having trouble and even leaving the church altogether. What was happening? To find out, she entered the lives of female ministers women of various ages, races, and denominations and emerged with the first real portrait of what it's like to lead as a woman of faith today.
Filled with humor, heartbreak, and triumph, the women's stories take us from calls to the pulpit through ordinations and service. Despite many churches resistance conscious or not to re-imagining what it means to be a minister, many of these women are achieving remarkable transformations in their congregations. In their inspiring determination to perform the creative, life-giving work to which they are called, these women illuminate a way that the church can revitalize itself. What's at stake is nothing less than the future of the church itself.

Praise For A Church of Her Own: What Happens When a Woman Takes the Pulpit…
Praise for A CHURCH OF HER OWN "Sensitively written, provocatively insightful and filled with autobiographical integrity, Sarah Sentilles' brilliance in this book calls all religious institutions to a new consciousness about gender issues." --John Shelby Spong, author of JESUS FOR THE NON-RELIGIOUS
"What does it mean to be a woman with a religious vocation? Sentilles offers a restless collage of realities, romping, ruminating, fulminating, grateful, joyous, unsatisfied -- but for readers deeply satisfying because her frank talk gives permission for the honesty that trembles and makes all things possible. A must read for any woman – anyone -- who cares about women in the church today." --Karen L. King, author of
THE GOSPEL OF MARY MAGDALA
Advertisement