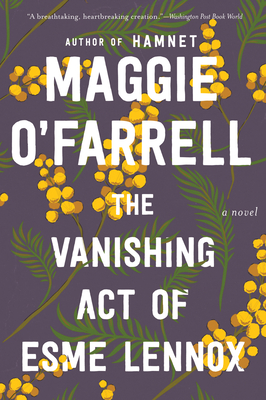 The Vanishing Act of Esme Lennox (Paperback)
Harvest Books, 9780156033671, 245pp.
Publication Date: June 2, 2008
Other Editions of This Title:
Hardcover (10/1/2007)
MP3 CD (10/24/2007)
Compact Disc (10/24/2007)
Compact Disc (10/24/2007)
Audio Cassette (10/1/2007)
Audio Cassette (10/1/2007)
* Individual store prices may vary.
Description
Maggie O'Farrell's captivating and critically acclaimed gothic tale of family secrets and the irrepressible freedom that truth brings
Chic and independent, Iris Lockhart is tending to her vintage-clothing shop in Edinburgh (and evading her married boyfriend) when she receives a stunning phone call: her great-aunt Esme whom she never knew existed is being released from Cauldstone Hospital, where she has been locked away for more than sixty years. Iris's grandmother Kitty always claimed to be an only child. But Esme's papers prove she is Kitty's sister, and Iris can see the shadow of her father in Esme's face. Esme has been labeled harmless sane enough to coexist with the rest of the world but she's still basically a stranger, a family member hidden away who will surely bring secrets with her when she leaves the ward. Moving expertly among the voices of Iris, Kitty, and Esme herself, Maggie O'Farrell reveals the story of Esme's tragic and haunting absence.
Praise For The Vanishing Act of Esme Lennox…
PRAISE FOR THE VANISHING ACT OF ESME LENNOX "I found this actually unputdownable, written with charge and energy and a kind of compelling drive, a clarity and a gripping dramatic insidiousness reminiscent of classic writers like Rebecca West and Daphne du Maurier." --Ali Smith

"Almost ridiculously pleasurable . . . shocking, heartbreaking, and fascinating." --The Times (London)
When Iris gets the call from the psychiatric hospital, she is put in a very difficult position. What does she stand to gain and lose from the decision she eventually makes? What would you do in her shoes?
How have years of incarceration affected Esme? Has she retained any of the qualities we see in young Esme, before she is committed? Does she seem sane to you?
The story contains several twists – what are they, and which did you find the most shocking?
Considering all that Kitty has done, all that has happened to her, and the dementia she has suffered in old age, are you able to feel sympathetic towards her?
The relationship between Iris and Alex is a complex one. How does it seem to have influenced their relationships with others? By the end of the novel, do you think they had reached any kind of resolution?
How did you find the end of the book? Can you think of any alternative endings that might have worked?
What similarities, and what differences do you see between the younger Esme, and the younger Iris?
This is a novel with a very complex time scheme. What techniques does the author use to handle this?
This has been described as Maggie O'Farrell's best novel so far. Do you agree?
The relationship between the sisters is very complicated. In what ways does it change as they enter adulthood?
How do you think people's attitudes towards unmarried mothers have changed since Esme was a young girl? How different would her life have been had she been able to keep her baby?
What do you feel the book tells us about mental institutions? Do you think people's attitudes have changed since the first half of the 20th Century?