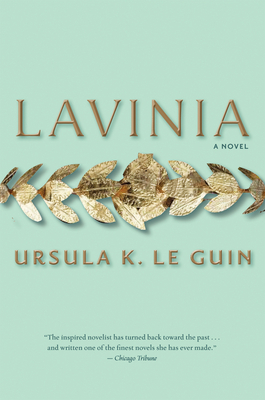 Lavinia
Paperback

* Individual store prices may vary.
Other Editions of This Title:
Digital Audiobook (9/25/2008)
Description
"A transporting novel told in the voice of a girl Virgil left in the margins. It is an absorbing, reverent, magnificent story" from the iconic, award-winning Ursula K. Le Guin (Cleveland Plain Dealer).
In The Aeneid, Vergil's hero fights to claim the king's daughter, Lavinia, with whom he is destined to found an empire. Lavinia herself never speaks a word. Now, Ursula K. Le Guin gives Lavinia a voice in a novel that takes us to the half-wild world of ancient Italy, when Rome was a muddy village near seven hills.
Lavinia grows up knowing nothing but peace and freedom, until suitors come. Her mother wants her to marry handsome, ambitious Turnus. But omens and prophecies spoken by the sacred springs say she must marry a foreigner—that she will be the cause of a bitter war—and that her husband will not live long. When a fleet of Trojan ships sails up the Tiber, Lavinia decides to take her destiny into her own hands. And so she tells us what Vergil did not: the story of her life, and of the love of her life.
Praise For Lavinia…
"[E]legant and eloquent." — Entertainment Weekly
"[A] work of immeasurable merit, Lavinia ranks with Robert Graves' inestimable I, Claudius as a perfect tale of a vastly imperfect time. Brilliant." — Baltimore Sun
"[Enhances] our understanding of The Aeneid, even as she tweaks Virgil for neglecting the female and domestic in favor of the male and martial." — Philadelphia Inquirer
Lavinia's conversations with Virgil, which are a love song to both the poet and the power of the imagination, are as good as anything Le Guin has done." — Milwaukee Journal-Sentinel
Lavinia is an old writer's book -- Le Guin is 79 -- in the best sense of the word; it is ripe with that half-remembered virtue, wisdom." — Laura Miller, Salon
"The inspired novelist has turned back toward the past--or, to be precise, poetry and myth about the past, because Lavinia is a literary rather than a historical figure---and written one of the finest novels she has ever made." — Chicago Tribune
 "Lavinia . . .makes clear that Le Guin can still write in her classic style." — Scott Timberg, Los Angeles Times 
"[A] transporting novel told in the voice of a girl Virgil left in the margins. It is an absorbing, reverent, magnificent story, one I will be pressing upon my friends all year... a sinewy book riven with awe." — Cleveland Plain Dealer
"Brilliant." — The Sacramento Bee
"[D]elightful. . . .The magic here is that we get to watch Aeneas's story unfold from Lavinia's point of view." — NPR's "All Things Considered"
With her new novel, Lavinia, fantasy and science fiction virtuoso Ursula K. Le Guin vividly fills some of the blanks in Vergil's Aeneid. She focuses this engaging novel on Aeneas's Latin wife, who is only sketchily depicted in the epic poem…. By telling this story from its heroine's clear, forthright perspective, Le Guin has taken the cipher that is Vergil's Lavinia and given her a new life." — Washington Post Book World 
"[LAVINIA] is a poem in the form of a novel, an elegant echo chamber for a canonical work, a reading of an epic poem, and a rewriting of that poem... In a real way, the writer is also royalty, one who speaks to the powers of the earth and sky." — Los Angeles Times
"[B]rilliant... Lavinia is not so much a feminist interpretation as a balanced interpretation of Vergil's poem... Read Vergil, read Le Guin and find both writers at the height of their powers." — The Oregonian
"The compulsively readable Le Guin earns kudos for fashioning a winning combination of history and mythology featuring an unlikely heroine imaginatively plucked from literary obscurity." — Booklist
"She was a minor character in The Aeneid, a 'silent, shrinking maiden,' but in Le Guin's brilliant reimagining of the last six books of Virgil's epic poem, Lavinia, the Latin king's daughter with whom the Trojan hero Aeneas founds the Roman Empire, finds her voice and springs fully to life... [T]his beautiful and moving novel is a love offering to one of the world's great poets, and former high-school Latin scholars may return to Virgil with a renewed appreciation. Highly recommended." — Library Journal (starred)
 "Arguably her best novel, and an altogether worthy companion volume to one of the Western world's greatest stories." — Kirkus (starred)
 "Le Guin is famous for creating alternative worlds (as in Left Hand of Darkness), and she approaches Lavinia's world, from which Western civilization took its course, as unique and strange as any fantasy. It's a novel that deserves to be ranked with Robert Graves's I, Claudius." — Publishers Weekly (starred)
 "Ursula Le Guin, who's been tirelessly writing about war and conflict for the last 40 years in a way that no one has before or since, just published the big and lovely Lavinia, in which she picks up the history of the Latins where Virgil couldn't be bothered to tread." — New York Observer
Harper Perennial, 9780156033688, 288pp.
Publication Date: April 10, 2009
About the Author
URSULA K. LE GUIN was born in Berkeley, California, in 1929, and passed away in Portland, Oregon, in 2018. She published over sixty books of fiction, nonfiction, poetry, drama, children's literature, and translation. She was the recipient of a National Book Award, six Hugo and five Nebula awards, and was inducted into the American Academy of Arts and Letters.