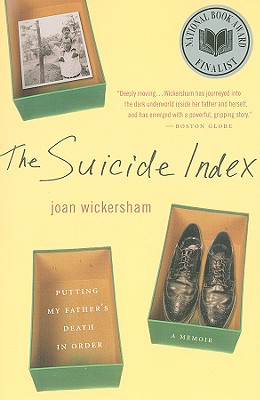 The Suicide Index (Paperback)
Putting My Father's Death in Order
Mariner Books, 9780156033800, 336pp.
Publication Date: June 23, 2009
Other Editions of This Title:
Hardcover (8/1/2008)
* Individual store prices may vary.
Description
When you kill yourself, you kill every memory everyone has of you. You're saying "I'm gone and you can't even be sure who it is that's gone, because you never knew me."
Sixteen years ago, Joan Wickersham's father shot himself in the head. The father she loved would never have killed himself, and yet he had. His death made a mystery of his entire life. Using an index—that most formal and orderly of structures—Wickersham explores this chaotic and incomprehensible reality. Every bit of family history—marriage, parents, business failures—and every encounter with friends, doctors, and other survivors exposes another facet of elusive truth. Dark, funny, sad, and gripping, at once a philosophical and deeply personal exploration, The Suicide Index is, finally, a daughter's anguished, loving elegy to her father.

About the Author
Joan Wickersham is the author of four books, including The Suicide Index, a National Book Award finalist. Her fiction has appeared in The Best American Short Stories and The Best American Nonrequired Reading. She has published essays and reviews in the Boston Globe, the Los Angeles Times and the International Herald Tribune, and she has contributed on-air essays to National Public Radio. She has received fellowships from the National Endowment for the Arts, the MacDowell Colony, and Yaddo.
Praise For The Suicide Index: Putting My Father's Death in Order…
PRAISE FOR THE SUICIDE INDEX
Written in the form of an index, an acknowledgment of Wickersham's inability to frame her father's act in any conventional linear form, this memoir is written in a cool, economical and ultimately piercing style utterly devoid of easy pathos or cliché. Anyone prone to facile dismissal of the memoir as literary high art should be silenced by the perfection of Wickersham's prose and her ability to hold the facts and her feelings up to the light, turning them again and again to reveal yet another facet of grief, anger, love, pity and guilt. -- Laura Miller, Salon.com [A] remarkable memoir. . . she exposes the whole messy territory of inheritance, of heritage, of what our families leave us, the treacherous trail of genetics and psychology and unhappiness, the legacy of all those generations as they play out in ways that we can see and ways that we will never see across the patterns of our lives. . . true in a way that transcends mere recollection . . . (S)he arrives at an almost perfect balance, producing a survivor's story, a portrait of suicide from the outside, one that finds clarity in its inability to be clarified. -- David Ulin, Los Angeles Times Honest, brave, incredibly moving, and completely unflinching in its honesty. It's one of those rare books that will haunt you for a long time after you finish it. . . . Wickersham's writing is gorgeous, restrained and lyrical at the same time, and there's not an extraneous word or ounce of fat in the book. In trying to comprehend what happened, Wickersham uses the format of an index, in an attempt to impose an order and shape on what appears to be a chaotic, perhaps random, act of her father's. . . . [An] amazing memoir. -- Nancy Pearl, KUOW / National Public Radio Joan Wickersham's deceptively simple organization of this volume packs a hard jab to the throat, and I found myself alternately holding my breath and looking away from the words on the page in stunned silence, Reading this book is a physical act – of beauty, of pain and of frankness. The sections on writing and truth are some of the finest I've seen. - Kelly McMasters, Newsday Joan Wickersham's deeply moving memoir seeks to comprehend the incomprehensible . . . What propels every intensely crafted page of this book is Wickersham's relentless drive to comprehend her father's suicide . . . Wickersham has journeyed into the dark underworld inside her father and herself, and has emerged with a powerful, gripping story. -- Chuck Leddy, Boston Globe [A] daughter's piercing and profoundly considered response to [her father's] death. She constructs her book like a series of index cards, with chapter headings that mimic those on outlines. It becomes a brilliant choice, allowing Wickersham to flip and sort through 15 years of what William Maxwell observed when he wrote, 'The suicide doesn't go alone, he takes everybody with him.' . . . Against the violent transgression of suicide, Wickersham has crafted a consummately subtle book. . . . In its discipline and art, The Suicide Index has the feel of a classic. -- Karen Long, Cleveland Plain Dealer I read The Suicide Index with a rapacity bordering on need, with tears in my chest and in my eyes. Occasionally I had to put it down and leave the room. More often, I devoured it. The book is . . . the measured, elegant, gripping work of a professional writer who has set her powers of observation to work on her own family — her parents and grandparents, her uncle, her sister, her husband, her son — and on herself. -- Laura Collins-Hughes, New York Sun [A]n extraordinary, magical mystery tour of a book. -- Heller McAlpin, Los Angeles Times What makes the narrative so compelling is not only Wickersham's gift for making her memories sing as though they were our own, but also how she presents herself as a willful seeker, open to any and all incarnations of truth, able to admit how much she doesn't know and never did. . . . in this very moving memoir, Wickersham comes as close as she's able to getting it right. -- Elle In spare prose, Wickersham has produced an artful and vivid memoir . . . capacious enough for both intimate detail and general information; cold data and lyric moments; for mystery and for consolation. The elementary facts – where, when, and how – are straightforward, even simple . . but her pursuit of "why" leads Wickersham and her reader into the "unanswerable questions and unresolvable paradoxes" that give her book classic qualities. -- Publishers Weekly This book is beautifully written and haunts the reader long after it's closed. -- Library Journal [A] sensitive and thorough memoir built around her father's suicide and the mystery of why he did it. It is both haunting and comforting to see how she puts her father's death "in order." -- Knoxvillle News Sentinel She writes beautifully. . . about the amount of sheer space a suicide takes in the lives of surviving family members, from the moment of death through the weeks, months and years afterward. . . . Bleak, strong and fiercely honest. -- Reeve Lindbergh, Washington Post In this harrowing, beautifully written memoir, Joan Wickersham tries to understand the forces that drove her father to take his own life. Part detective story, part anguished examination of a family, The Suicide Index traces the myriad repercussions suicide has not only on the future but also on the past. A powerful, important book. -- Abigail Thomas, author of A Three Dog Life The Suicide Index is just astonishing. Having endured the suicide of a close family member, I opened this book with dread and longing: fearful of revisiting so much pain yet keenly wanting, as I always will, to understand why. No one can ever fully answer the question that suicide remains for those left behind, yet here, in Joan Wickersham's exquisitely straightforward story, I found surprising consolation. It is a love story, a mystery, a quiet tragedy, a dark comedy, and a profoundly absorbing modern family saga. It will stay with me for a very long time. -- Julia Glass, author of Three Junes and I See You Everywhere