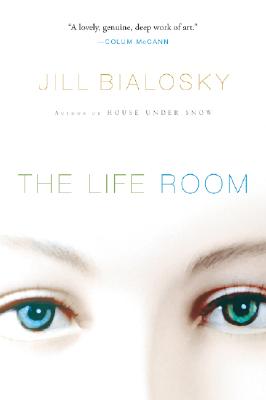 The Life Room
Paperback

* Individual store prices may vary.
Description
Eleanor Cahn, a professor of literature, wife of a preeminent surgeon, and devoted mother of two, is in Paris to present a paper on Anna Karenina. A chance encounter brings to the surface passions she has suppressed for years. As The Life Room unfolds, we learn the secrets of her erotic past: ethereal William, her high school boyfriend; her role as muse to troubled painter Adam; her marriage to loyal, steady Michael. On her return to New York, Eleanor's charged attraction to another man takes on a life of its own, threatening to destroy everything she has. Jill Bialosky has created a fresh, piercingly real heroine who must choose between responsibility and desire.
Praise For The Life Room…
ADVANCE PRAISE FOR THE LIFE ROOM

"Jill Bialosky pierces the heart here until the reader feels just exactly what it means to have it all—husband, children, success—and yet to be achingly alone, longing for passion, of the kind Anna Karenina sacrificed everything for. Through Bialosky's elegant prose and tremendous talents as a storyteller, desire reverberates across the pages to meet the reader's own."— MARTHA McPHEE


—
Mariner Books, 9780156034326, 352pp.
Publication Date: November 3, 2008
About the Author
JILL BIALOSKY is the author of the acclaimed novel House Under Snow and two collections of poetry, The End of Desire and Subterranean. Her poems and essays have appeared in the New Yorker and O, The Oprah Magazine. She is an editor at W. W. Norton & Company and lives in New York City.
Eleanor's blue eye and green eye signify that she is split in two by nature—fractured. A tragic heroine is typically defined as a woman who is doomed because her recognition of herself is skewed. Is Eleanor a tragic heroine?
How do the different men Eleanor has been involved with romantically represent different facets of her personality?
How does Eleanor's troubled relationship with her father affect her relationships with men over the course of her lifetime?
Why doesn't Eleanor foresee the outcome of her relationship with William? Should she have?
What does William's wall symbolize for him? Does it mean the same thing to Eleanor?
Adam's enormous ego and penchant for acting carelessly in the face of his sexual impulses color his relationships with women. Yet Eleanor recognizes his sensitivity in capturing her interior life in his paintings. How is Adam more than simply a selfishly motivated man?
Eleanor feels that she and Stephen are very much alike. Is her perception of herself accurate?
Is Eleanor really like her father, as she fears? Does she hold anything in common with her mother?
Eleanor worries that her passion for Stephen will be her undoing, and vacillates between resenting him and finding him irresistible. Can Stephen be held to blame for the disruption his reunion with Eleanor causes in her domestic life, or is Eleanor ultimately responsible for what ensues?
The Life Room details a fraught period in the marriage of Eleanor and Michael from Eleanor's perspective. How might Michael have told this story differently? Why does Michael bear with Eleanor through her doubts about their union?
Should Eleanor regret her trip to Paris?
The Life Room depicts the lasting personal conflicts of several individuals raised in troubled homes. Should Eleanor worry that her preoccupation with her own desires will harm her children's sense of security?
The artistic men Eleanor falls for all encounter life with a destructive impulse. Why is Eleanor drawn to these men? Can passion last?
Eleanor turns to her fellow academics for intellectual exchanges that she feels her husband and their shared social set don't engage in. What needs are addressed by her relationships with these more practically minded individuals? Is she as dependent on her friends' insights as she is on those of her colleagues?"
From the prayer shawl that Adam passes on to her to her visits to her local rabbi, is spirituality an effective salve for Eleanor?
What qualities does Eleanor Cahn share with Tolstoy's great heroine Anna Karenina? How are they different?
In The Life Room, Eleanor looks for answers to the turmoil of her personal life in the literary cannon, in works from Tolstoy's novel Anna Karenina to Keats's "Ode on a Grecian Urn." Have you ever turned to novels and poetry to address the dilemmas of your own daily life? How useful is art in examining real-life problems?