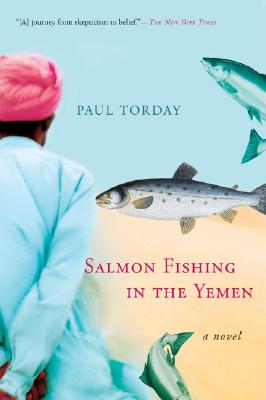 Salmon Fishing in the Yemen (Paperback)
Harvest Books, 9780156034562, 333pp.
Publication Date: April 21, 2008
Description
UK BESTSELLERWhat does it take to make us believe in the impossible?For Dr. Alfred Jones, life is a quiet mixture of civil service at the National Centre for Fisheries Excellence and marriage to Mary--an ambitious, no-nonsense financier. But a strange turn of fate from an unexpected direction forces Jones to upend his existence and spend all of his time in pursuit of another man's ludicrous dream. Can there be salmon in the Yemen? Science says no. But if resources are limitless and the visionary is inspired, maybe salmon fishing in the Yemen isn't impossible. Then again, maybe nothing is.
Praise For Salmon Fishing in the Yemen…
PRAISE FOR SALMON FISHING IN THE YEMEN [At] its heart is Jones's journey from skepticism to belief." The New York Times
Torday's clear talent is striking such a variety of notes, from soulful to satirical, and making them work as one bracing, bittersweet whole."Michael Upchurch,
The Seattle Times
  Paul Torday's debut novel is about an impossibility. It is also about belief in the impossible, and belief itself. And the remarkable thing is that a book about so deeply serious a matter can make you laugh . . .
Salmon Fishing
is extraordinary indeed, and a triumph."
The Guardian
(London) 
Advertisement