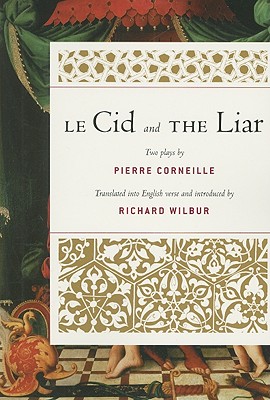 Le Cid and The Liar
Paperback

* Individual store prices may vary.
Description
Richard Wilbur's translations of the great French dramas have been a boon to acting troupes, students of French literature and history, and theater lovers. He continues this wonderful work with two plays from Pierre Corneille: Le Cid is Corneille's most famous play, a tragedy set in Seville that illuminates the dangers of being bound by honor and the limits of romantic love; The Liar is a farce, set in France and dealing with love, misperceptions, and downright falsifications, which ends, of course, happily ever after.

These two plays, together in one volume, work in perfect tandem to showcase the breadth of Corneille's abilities. Taking us back to the time he portrays as well as the time of his greatest success as a playwright, they remind us that the delights to be found on the French stage are truly ageless.
Praise For Le Cid and The Liar…
Praise for LE CID and THE LIAR

"Adding two more works of Corneille--imagine making such chestnuts hot!--Mr. Wilbur has now enlarged his classical French proscenium to a really inclusive extent, and by the only means culture admits: by our enjoyment. Thanks all around: to Corneille & Co., of course, but to Richard Wilbur, the one poet whose translations give us pleasure-—heroical, comical, tragical pleasure—loving thanks."
—Richard Howard

Praise for Richard Wilbur's translation of THE THEATRE OF ILLUSION by Pierre Corneille

"[Wilbur] not only catches Matamore's bombastic accents to perfection but through clever rhymes conveys his absurd grandiosity. Mr. Wilbur's earlier translations of Molière and Racine have long been considered classics, and rightly so; this, his first Corneille, is equally marvelous." —The New York Sun

Praise for Richard Wilbur's translations:

"A large part of the reason for what must be termed a Molière revival in North America is the excellence of Richard Wilbur's translations."—The New York Times

"Wilbur makes Molière into as great an English verse playwright as he was a French one."—New York Magazine

Mariner Books, 9780156035835, 272pp.
Publication Date: August 11, 2009
About the Author
RICHARD WILBUR, one of America's most beloved poets, has served as poet laureate of the United States. He has received the National Book Award, two Pulitzer Prizes, the National Arts Club medal of honor for literature, and a number of translation prizes, including two Bollingen Prizes and two awards from PEN.