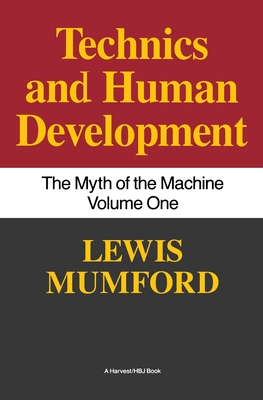 Technics and Human Development (Paperback)
The Myth of the Machine, Vol. I
Mariner Books, 9780156623414, 352pp.
Publication Date: September 29, 1971
* Individual store prices may vary.
Description
Mumford explains the forces that have shaped technology since prehistoric times and shaped the modern world. He shows how tools developed because of significant parallel inventions in ritual, language, and social organization. "It is a stimulating volume, informed both with an enormous range of knowledge and empathetic spirit" (Eliot Fremont-Smith, New York Times). Index; photographs.

About the Author
Lewis Mumford (1895-1990) was elected to the American Academy of Arts and Letters in 1955 and received the United States Presidential Medal of Freedom in 1964. He is the author of The City in History, The Culture of Cities, Condition of Man, Interpretations and Forecasts, and Sketches from Life.