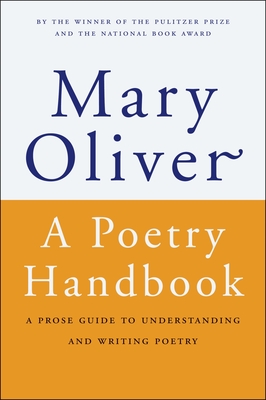 A Poetry Handbook
Paperback

* Individual store prices may vary.
Description
With passion, wit, and good common sense, the celebrated poet Mary Oliver tells of the basic ways a poem is built—meter and rhyme, form and diction, sound and sense. She talks of iambs and trochees, couplets and sonnets, and how and why this should matter to anyone writing or reading poetry. Drawing on poems from Robert Frost, Elizabeth Bishop, and others, Oliver imparts an extraordinary amount of information in a remarkably short space.

"Mary Oliver would probably never admit to anything so grandiose as an effort to connect the conscious mind and the heart (that's what she says poetry can do), but that is exactly what she accomplishes in this stunning little handbook."—Los Angeles Times
 
Mariner Books, 9780156724005, 144pp.
Publication Date: August 15, 1994
About the Author
A private person by nature, Mary Oliver (1935–2019) gave very few interviews over the years. Instead, she preferred to let her work speak for itself. And speak it has, for the past five decades, to countless readers. Over the course of her long and illustrious career, Oliver received numerous awards. Her fourth book, American Primitive, won the Pulitzer Prize for Poetry in 1984. She also received the Shelley Memorial Award; a Guggenheim Fellowship; an American Academy and Institute of Arts and Letters Achievement Award; the Christopher Award and the L.L. Winship/PEN New England Award for House of Light; the National Book Award for New and Selected Poems; a Lannan Foundation Literary Award; and the New England Booksellers Association Award for Literary Excellence.