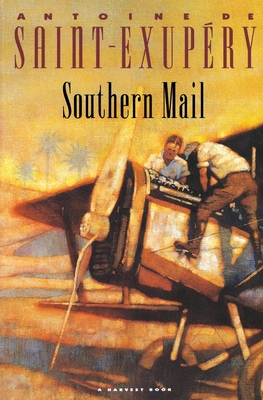 Southern Mail (Paperback)
Mariner Books, 9780156839013, 132pp.
Publication Date: March 15, 1972
* Individual store prices may vary.
Description
In his first novel, Saint-Exupéry pays homage to "those elemental divinities—night, day, mountain, sea, and storm," turning an account of a routine mail flight from France to North Africa into an epic rendering of the pioneer days of commercial aviation. The book is also a poignant reminiscence of a tragic affair, in which the uncertainties of love and flight enhance the mystery of one another. Translated by Curtis Cate.
About the Author
ANTOINE DE SAINT-EXUPÉRY, the "Winged Poet," was born in Lyon, France, in 1900. A pilot at twenty-six, he was a pioneer of commercial aviation and flew in the Spanish Civil War and World War II. His writings include The Little Prince, Wind, Sand and Stars, Night Flight, Southern Mail, and Airman's Odyssey. In 1944, while flying a reconnaissance mission for his French air squadron, he disappeared over the Mediterranean.