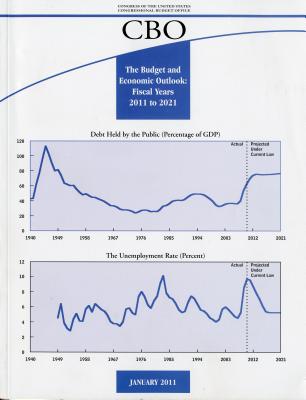 Budget and Economic Outlook (Paperback)
Fiscal Years 2010-2021
Congressional Budget Office, 9780160877643, 188pp.
Publication Date: February 17, 2011
Other Editions of This Title:
Paperback (2/12/2010)
* Individual store prices may vary.
Description
NOTE: NO FURTHER DISCOUTN FOR THIW PRINTED PRODUCT- OVERSTOCK SALE -- Significantly reduced list price
The United States faces daunting economic and budgetary challenges. The economy has struggled to recover from the recent recession, which was triggered by a large decline in house prices and a financial crisis events unlike anything this country has seen since the Great Depression. During the recovery, the pace of growth in the nation's output has been anemic compared with that during most other recoveries since World War II, and the unemployment rate has remained quite high.
For the federal government, the sharply lower revenues and elevated spending deriving from the financial turmoil and severe drop in economic activity combined with the costs of various policies implemented in response to those conditions and an imbalance between revenues and spending that predated the recession have caused budget deficits to surge in the past two years. The deficits of $1.4 trillion in 2009 and $1.3 trillion in 2010 are, when measured as a share of gross domestic product (GDP), the largest since 1945 representing 10.0 percent and 8.9 percent of the nation's output, respectively.
For 2011, the Congressional Budget Office (CBO) projects that if current laws remain unchanged, the federal budget will show a deficit of close to $1.5 trillion, or 9.8 percent of GDP. The deficits in CBO's baseline projections drop markedly over the next few years as a share of output and average 3.1 percent of GDP from 2014 to 2021. Those projections, however, are based on the assumption that tax and spending policies unfold as specified in current law. Consequently, they understate the budget deficits that would occur if many policies currently in place were continued, rather than allowed to expire as scheduled under current law.

Economists, American citizens, investors, corporation executives, small business owners, and America's workforce of men and women may be interested in this resource.

Other products produced by the Congressional Budget Office can be found here: https: //bookstore.gpo.gov/agency/237
or
Not Currently Available for Direct Purchase