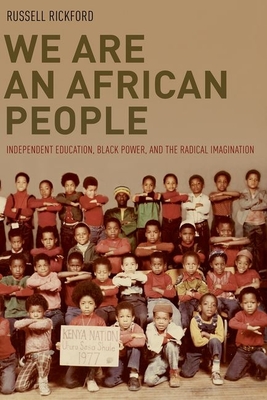 We Are an African People
Independent Education, Black Power, and the Radical Imagination
Paperback

* Individual store prices may vary.
Other Editions of This Title:
Hardcover (2/11/2016)
Description
During the height of the Black Power movement of the late 1960s and 1970s, dozens of Pan African nationalist private schools, from preschools to post-secondary ventures, appeared in urban settings across the United States. The small, independent enterprises were often accused of teaching hate and were routinely harassed by authorities. Yet these institutions served as critical mechanisms for transmitting black consciousness. Founded by activist-intellectuals and other radicalized veterans of the civil rights movement, the schools strove not simply to bolster the academic skills and self-esteem of inner-city African-American youth but also to decolonize minds and foster a vigorous and regenerative sense of African identity. In We Are An African People, historian Russell Rickford traces the intellectual lives of these autonomous black institutions, established dedicated to pursuing the self-determination that the integrationist civil rights movement had failed to provide. Influenced by Third World theorists and anticolonial campaigns, organizers of the schools saw formal education as a means of creating a vanguard of young activists devoted to the struggle for black political sovereignty throughout the world. Most of the institutions were short-lived, and they offered only modest numbers of children a genuine alternative to substandard, inner-city public schools. Yet their stories reveal much about Pan Africanism as a social and intellectual movement and as a key part of an indigenous black nationalism. Rickford uses this largely forgotten movement to explore a particularly fertile period of political, cultural, and social revitalization that strove to revolutionize African American life and envision an alternate society. Reframing the post-civil rights era as a period of innovative organizing, he depicts the prelude to the modern Afrocentric movement and contributes to the ongoing conversation about urban educational reform, race, and identity.
Oxford University Press, USA, 9780190055530, 402pp.
Publication Date: August 15, 2019
About the Author
Russell Rickford is Assistant Professor of History at Cornell University. He is the author of Betty Shabazz: Surviving Malcolm X, the co-author of Spoken Soul: The Story of Black English, and the editor of Beyond Boundaries: The Manning Marable Reader.