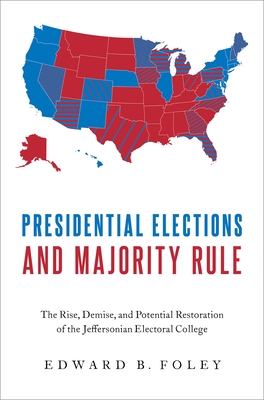 Presidential Elections and Majority Rule
The Rise, Demise, and Potential Restoration of the Jeffersonian Electoral College
Hardcover

* Individual store prices may vary.
Oxford University Press, USA, 9780190060152, 256pp.
Publication Date: January 2, 2020
About the Author
Edward B. Foley directs the election law program at Ohio State University, where he also holds the Ebersold Chair in Constitutional Law. Previously, Foley clerked for Chief Judge Patricia M. Wald of the U.S. Court of Appeals for the D.C. Circuit and Justice Harry Blackmun of the United States Supreme Court. He has also served as State Solicitor in the office of Ohio's Attorney General, where he was responsible for the state's appellate and constitutional litigation. He is the author of the acclaimed book Ballot Battles: The History of Disputed Elections in the United States (Oxford University Press) and co-author of Election Law and Litigation: The Judicial Regulation of Politics.