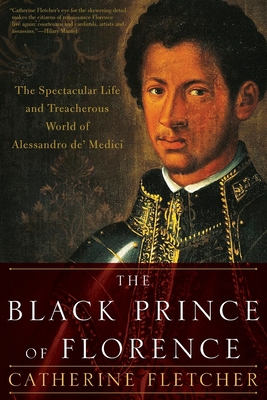 The Black Prince of Florence
The Spectacular Life and Treacherous World of Alessandro De' Medici
Paperback

* Individual store prices may vary.
Other Editions of This Title:
Hardcover (9/1/2016)
Description
Born to a dark-skinned maid and Lorenzo II de' Medici, the illegitimate Alessandro was groomed for power. In 1532, at the age of nineteen, backed by the Holy Roman Emperor--his future father-in-law--and the Pope, he became Duke of Florence, facing down family rivals and oligarchs and inheriting the grandest dynasty of the Italian Renaissance. Catherine Fletcher's The Black Prince of Florence is the first complete account of the real-life counterpart to Machiavelli's Prince. After ruling for a turbulent six years, Alessandro was murdered in 1537 during a late-night tryst arranged by a scheming cousin. As Fletcher puts it, he was assassinated twice: "first with a sword, then with a pen." Following his death, Alessandro's reign was dismissed by his enemies--of which every Medici prince had many, and Alessandro more than his share--and his death painted as tyrannicide. It was in the years and centuries that followed that his racial origin became a focus, first by those seeking to emphasize his "savagery" and thus to justify his murder, and later to argue his case as the first ruler of color in the Western world. In 1931, Arturo Alfonso Schomburg, founder of the famous collection of African history in Harlem, wrote an article about Alessandro in the magazine The Crisis, then edited by W.E.B. Du Bois, calling him the "Negro Medici." Defined by intrigue, opulence, sexual conquest, and an endless struggle to retain power, Alessandro's life and afterlife reveal how racial identity has played out over the centuries, and to what degree it remains in the eye of the beholder. In this captivating biography of an intriguing and forgotten figure, Fletcher does full justice to his remarkable story, unraveling centuries-old mysteries, exposing forgeries, and bringing to life the epic personalities--artists, popes, queens, and pimps--of one of the most colorful periods in history.

Oxford University Press, USA, 9780190092146, 338pp.
Publication Date: July 8, 2020
About the Author
Catherine Fletcher is a historian of Renaissance and early modern Europe. Her first book, The Divorce of Henry VIII, brought to life the Papal court at the time of the Tudors. She consulted on the Golden-Globe-winning TV miniseries Wolf Hall and regularly broadcasts for BBC radio. She is Associate Professor in History and Heritage at Swansea University and has held research fellowships in London, Florence, and Rome.