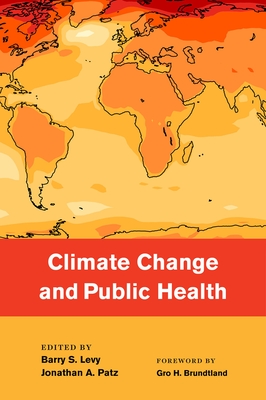 Climate Change and Public Health (Paperback)
Oxford University Press, USA, 9780190202453, 448pp.
Publication Date: July 30, 2015
* Individual store prices may vary.
Description
Climate change is causing, and will increasingly cause, a wide range of adverse health effects, including heat-related disorders, infectious diseases, respiratory and allergic disorders, malnutrition, mental health problems, and violence. The scientific bases for the associations between climate change and health problems are evolving as are the strategies for adapting to climate change and mitigating the greenhouse gases, which are its primary cause. With contributions from 78 leading experts in climate change and in public health, this book contains a concise and comprehensive book that represents a core curriculum on climate change and public health, including key strategies for adaptation and mitigation. Written primarily for students and mid-career professionals in public health and environmental sciences, the book clearly describes concepts and their application to the health impacts of climate change. Chapters are supplemented with case studies, graphs, tables and photographs. The book's organization in 15 chapters makes it an ideal textbook for graduate and undergraduate courses in public health, environmental sciences, public policy, and other fields.

About the Author
Barry S. Levy, M.D., M.P.H. is an Adjunct Professor of Public Health at Tufts University School of Medicine and a consultant in environmental and occupational health. He has had a wide range of experiences in public health practice, education, research, policy development, and consultation. He has served as a medical epidemiologist with the Centers for Disease Control, a Professor at the University of Massachusetts Medical School, a leader of several international health programs and projects, and president of the American Public Health Association. He has co-edited 17 multi-contributor books, nine of which have focused on environmental and occupational health. Jonathan A. Patz, M.D., M.P.H., is Director of the Global Health Institute and Professor of Environmental Sciences and Population Health Sciences at the University of Wisconsin-Madison. He is one of the most recognized, long-standing experts on the health implications of global climate change. He has authored over 80 scientifically peer-reviewed papers on the subject. Dr. Patz served as a lead author on the Intergovernmental Panel on Climate Change (IPCC) for 14 years, and co-chaired the Health Expert Panel of the first U.S. National Assessment on Climate Change. He has taught and conducted research on climate change and its relationship to health for nearly two decades.