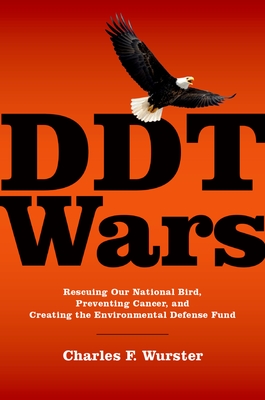 DDT Wars (Hardcover)
Rescuing Our National Bird, Preventing Cancer, and Creating the Environmental Defense Fund
Oxford University Press, USA, 9780190219413, 256pp.
Publication Date: July 1, 2015
* Individual store prices may vary.
Description
DDT Wars is the untold inside story of the decade-long scientific, legal and strategic campaign that culminated in the national ban of the insecticide DDT in 1972. The widespread misinformation, disinformation and mythology of the DDT issue are corrected in this book. DDT contamination had become worldwide, concentrating up food chains and causing birds to lay thin-shelled eggs that broke in the nests. Populations of many species of predatory and fish-eating birds collapsed, including the American Bald Eagle, Osprey, Peregrine Falcon and Brown Pelican. Their numbers recovered spectacularly in the decades following the ban. During the campaign DDT and five other insecticides were found to cause cancer in laboratory tests, which led to bans of these six pesticides by international treaty in 2001. This campaign produced lasting changes in American pesticide policies. The legal precedents broke down the court "standing" barrier, forming the basis for the development of environmental law as we know it today. This case history represents one of the greatest environmental victories of recent decades. DDT is still "controversial" because it has been deceptively interjected into the "climate wars." This campaign was led by the Environmental Defense Fund (EDF), founded in 1967 by ten citizens, most of them scientists, volunteers without special political connections or financial resources. Their strategy was to take environmental problems to court. There were many setbacks along the way in this exciting and entertaining story. The group was often kicked out of court, but a few determined citizens made a large difference for environmental protection and public health. Author Charles Wurster was one of the leaders of the campaign. The first six years of EDF history are described as it struggled to survive. Now EDF is one of the world's great environmental advocacy organizations defending our climate, ecosystems, oceans and public health.

About the Author
Charles F. Wurster is a founding member of the Environmental Defense Fund and Professor Emeritus of Environmental Sciences, State University of New York at Stony Brook.
or
Not Currently Available for Direct Purchase