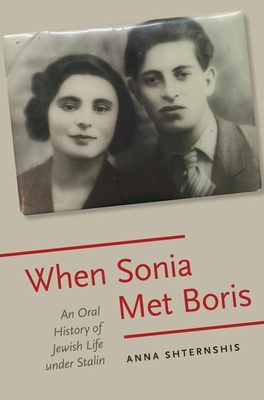 When Sonia Met Boris
An Oral History of Jewish Life Under Stalin (Oxford Oral History)
Hardcover

* Individual store prices may vary.
Description
Soviet Jews lived through a record number of traumatic events: the Great Terror, World War II, the Holocaust, the Famine of 1947, the Doctors' Plot, the antisemitic policies of the postwar period, and the collapse of the Soviet Union. But like millions of other Soviet citizens, they married,
raised children, and built careers, pursuing life as best as they could in a profoundly hostile environment. One of the first scholars to record and analyze oral testimonies of Soviet Jews, Anna Shternshis unearths their everyday life and the difficult choices that they were forced to make as a
repressed minority living in a totalitarian regime. Drawing on nearly 500 interviews with Soviet citizens who were adults by the 1940s, When Sonia Met Boris describes both indirect Soviet control mechanisms?such as housing policies and unwritten quotas in educational institutions?and personal strategies to overcome, ignore, or even take advantage of
those limitations. The interviews reveal how ethnicity was rapidly transformed into a negative characteristic, almost a disability, for Soviet Jewry in the postwar period. Ultimately, Shternshis shows, after decades living in a repressive, nominally atheistic state, these Jews did manage to retain a
complex sense of Jewish identity, but one that fully disassociates Jewishness from Judaism and instead associates it with secular society, prioritizing chess over Talmud, classical music over Hasidic tunes. Gracefully weaving together poignant stories, intimate reflections, and witty anecdotes, When
Sonia Met Boris traces the unusual contours of contemporary Russian Jewish identity back to its roots.

Oxford University Press, USA, 9780190223106, 264pp.
Publication Date: February 1, 2017
About the Author
Anna Shternshis is the Al and Malka Green Associate Professor in Yiddish Language and Literature and the Director of Anne Tanenbaum Centre for Jewish Studies at the University of Toronto. She is the author of Soviet and Kosher: Jewish Popular Culture in the Soviet Union, 1923 - 1939 (2006) and morethan twenty articles on the Soviet Jewish experience during World War II, Russian Jewish culture, and the post-Soviet Jewish diaspora.
or
Not Currently Available for Direct Purchase