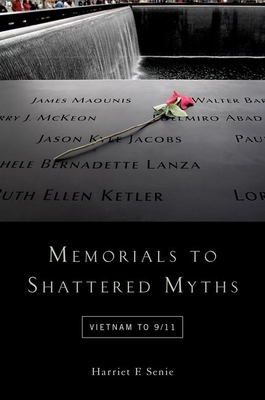 Memorials to Shattered Myths
Vietnam to 9/11
Paperback

* Individual store prices may vary.
Other Editions of This Title:
Hardcover (1/4/2016)
Description
Memorials to Shattered Myths: Vietnam to 9/11 traces the evolution and consequences of a new hybrid paradigm, which grants a heroic status to victims of national tragedies, and by extension to their families, thereby creating a class of privileged participants in the permanent memorial
process. Harriet F. Senie suggests that instead the victims' families be able to determine the nature of an interim memorial, one that addresses their needs in the critical time between the murder of their loved ones and the completion of the permanent memorial. She also observes that the memorials
discussed herein are inadvertently based on strategies of diversion and denial that direct our attention away from actual events, and reframe tragedy as secular or religious triumph. In doing so, they camouflage history, and seen as an aggregate, they define a nation of victims, exactly the concept
they and their accompanying celebratory narratives were apparently created to obscure.

Oxford University Press, USA, 9780190248406, 272pp.
Publication Date: January 4, 2016
About the Author
Harriet F. Senie is Director of the M.A. Program in Art History and Art Museum Studies at City College, City University of New York, and also teaches at the CUNY Graduate Center. She is the author of several books and numerous articles on public art, and is co-founder of the internationalorganization Public Art Dialogue and co-editor of its journal, Public Art Dialogue.