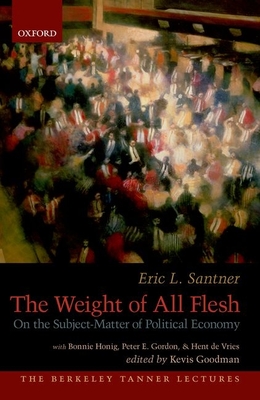 The Weight of All Flesh (Hardcover)
On the Subject-Matter of Political Economy (Berkeley Tanner Lectures)
Oxford University Press, USA, 9780190254087, 312pp.
Publication Date: November 2, 2015
* Individual store prices may vary.
Description
Eric Santner offers a radically new interpretation of Marx's labor theory of value as one concerned with the afterlife of political theology in secular modernity. What Marx characterized as the dual character of the labor embodied in the commodity, he argues, is the doctrine of the King's Two Bodies transferred from the political theology of sovereignty to the realm of political economy. This genealogy, leading from the fetishism of the royal body to the fetishism of the commodity, also suggests a new understanding of the irrational core at the center of economic busyness today, its 24/7 pace. The frenetic negotiations of our busy-bodies continue and translate into the doxology of everyday life the liturgical labor that once sustained the sovereign's glory. Maintaining that an effective critique of capitalist political economy must engage this liturgical dimension, Santner proposes a counter-activity, which he calls "paradoxological." With commentaries by Bonnie Honig, Peter Gordon, and Hent de Vries, an introduction by Kevis Goodman, and a response from Santner, this important new book by a leading cultural theorist and scholar of German literature, cinema, and history will interest readers of political theory, literature and literary theory, and religious studies.

About the Author
Eric L. Santner is The Philip and Ida Romberg Distinguished Service Professor in Modern Germanic Studies at the University of Chicago. Kevis Goodman is is Associate Professor of English at the University of California, Berkeley.
or
Not Currently Available for Direct Purchase