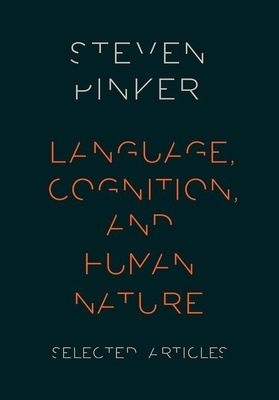 Language, Cognition, and Human Nature
Paperback

* Individual store prices may vary.
Other Editions of This Title:
Hardcover (10/25/2013)
Description
Language, Cognition, and Human Nature collects together for the first time much of Steven Pinker's most influential scholarly work on language and cognition. Pinker's seminal research explores the workings of language and its connections to cognition, perception, social relationships, child
development, human evolution, and theories of human nature. This eclectic collection spans Pinker's thirty-year career, exploring his favorite themes in greater depth and scientific detail. It includes thirteen of Pinker's classic articles, ranging over topics such as language development in children, mental imagery, the recognition of shapes, the
computational architecture of the mind, the meaning and uses of verbs, the evolution of language and cognition, the nature-nurture debate, and the logic of innuendo and euphemism. Each outlines a major theory or takes up an argument with another prominent scholar, such as Stephen Jay Gould, Noam
Chomsky, or Richard Dawkins. Featuring a new introduction by Pinker that discusses his books and scholarly work, this collection reflects essential contributions to cognitive science by one of our leading thinkers and public intellectuals.

Oxford University Press, USA, 9780190259280, 400pp.
Publication Date: October 1, 2015
About the Author
Steven Pinker is Johnstone Family Professor in the Department of Psychology at Harvard University. He conducts research on language and cognition, writes for publications such as the New York Times, Time and The New Republic, and is the author of eight books, including The Language Instinct, How theMind Works, Words and Rules, The Blank Slate, The Stuff of Thought, and, most recently, The Better Angels of Our Nature: Why Violence Has Declined.