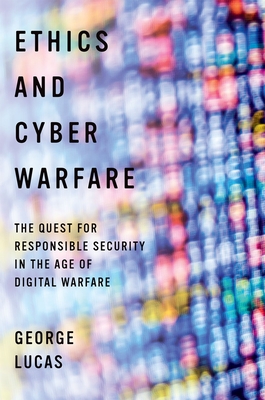 Ethics and Cyber Warfare (Hardcover)
The Quest for Responsible Security in the Age of Digital Warfare
Oxford University Press, USA, 9780190276522, 208pp.
Publication Date: December 13, 2016
* Individual store prices may vary.
Description
From North Korea's recent attacks on Sony to perpetual news reports of successful hackings and criminal theft, cyber conflict has emerged as a major topic of public concern. Yet even as attacks on military, civilian, and commercial targets have escalated, there is not yet a clear set of ethical guidelines that apply to cyber warfare. Indeed, like terrorism, cyber warfare is commonly believed to be a war without rules. Given the prevalence cyber warfare, developing a practical moral code for this new form of conflict is more important than ever. In Ethics and Cyber Warfare, internationally-respected ethicist George Lucas delves into the confounding realm of cyber conflict. Comparing "state-sponsored hacktivism" to the transformative impact of "irregular warfare" in conventional armed conflict, Lucas offers a critique of legal approaches to governance, and outlines a new approach to ethics and "just war" reasoning. Lucas draws upon the political philosophies of Alasdair MacIntyre, John Rawls, and J rgen Habermas to provide a framework for understanding these newly-emerging standards for cyber conflict, and ultimately presents a professional code of ethics for a new generation of "cyber warriors." Lucas concludes with a discussion of whether preemptive self-defense efforts - such as the massive government surveillance programs revealed by Edward Snowden - can ever be justified, addressing controversial topics such as privacy, anonymity, and public trust. Well-reasoned and timely, Ethics and Cyber Warfare is a must-read for anyone with an interest in philosophy, ethics, or cybercrime.

About the Author
Recently retired as the Distinguished Chair in Ethics in the Vice Admiral James B. Stockdale Center for Ethical Leadership at the United States Naval Academy, and as Professor of Ethics and Public Policy at the Graduate School of Public Policy at the Naval Postgraduate School, George Lucas is currently a Visiting Distinguished Research Professor at the John J. Reilly Center for Science, Technology & Values at the University of Notre Dame. He is the author of Anthropologists in Arms (Alta Mira, 2009) and Military Ethics: What Everyone Needs to Know (Oxford University Press, 2015).