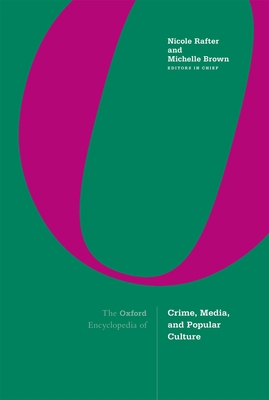 The Oxford Encyclopedia of Crime, Media, and Popular Culture
3-Volume Set
Hardcover

* Individual store prices may vary.
Description
Crime and punishment fascinate. Overwhelming in their media dominance, they present us with our most popular television programs, films, novels, art works, video games, podcasts, social media streams and hashtags. The Oxford Research Encyclopedia of Crime, Media and Popular Culture, a massive and unprecedented undertaking, offers a foundational space for understanding the cultural life and imaginative force and power of crime and punishment. Across five areas foundational to the study of crime and media, leading scholars from five continents engage cutting edge scholarship in order to provide definitive overviews of over 120 topics. In the context of an unprecedented global proliferation in the production of images, they take up the perennial and emergent problems of crime's celebrity and fascination; stereotypes and innovations in portrayals of crime and criminals; and the logics of representation that follow police, courts, capital punishment, prisons, and legal systems across the world. They also engage new, timely, and historically overlooked categories of offense and their representations, including child sexual abuse, violence against women, and human trafficking. A series of entries on mediums and methods provide a much needed set of critical approaches at a historical moment when doing media and visual research is a daunting, formidable undertaking. This is also a volume that stretches our understanding of conventional categories of crime representation. One example of this is homicide, where entries include work on the ever-popular serial killer but also extend to filicide, infanticide, school shootings, aboriginal deaths in custody, lynchings, terrorism and genocide. Readers will be will be hard-pressed to find a convention, trope, or genre of crime representation that is not, in some way, both present and enlarged. From film noir to police procedurals, courtroom dramas and comedies to comic books, crime news to true crime and reality TV, gaming to sexting, it is covered in this encyclopedia.

Oxford University Press, USA, 9780190494674, 2232pp.
Publication Date: March 22, 2018
About the Author
Nicole Rafter was Professor Emerita in the School of Criminology and Criminal Justice at Northeastern University, where she taught since 1977. She wrote five monographs: Partial Justice: Women, State Prisons, and Social Control; Creating Born Criminals; Shots in the Mirror: Crime Films and Society; The Criminal Brain; and (with M. Brown) Criminology Goes to the Movies. In addition, she published nine other books, including translations (with Mary Gibson) of the major criminological works of Cesare Lombroso, and published over fifty journal articles and chapters. In 2009 she received the American Society of Criminology's Sutherland Award; other honors include a Fulbright Fellowship and several fellowships to Oxford University. Michelle Brown is associate professor of Sociology at the University of Tennessee. Her research explores carceral studies, visual criminology, and law and society. She is the author of The Culture of Punishment (NYUP, 2009), co-author of Criminology Goes to the Movies (with Nicole Rafter; NYUP, 2011), and co-editor of Media Representations of September 11 (Praeger, 2003). She is currently co-editing the Sage journal Crime Media Culture, The Routledge International Handbook of Visual Criminology (2017); and the Palgrave MacMillan Crime, Media and Culture Book Series. Her next book examines alternative forms of justice in response to the rise of the carceral state.