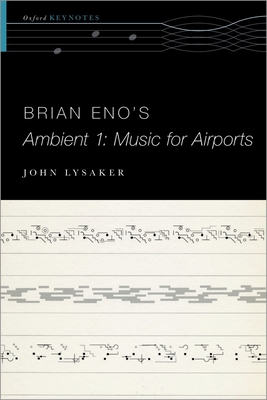 Brian Eno's Ambient 1
Music for Airports
Hardcover

* Individual store prices may vary.
Other Editions of This Title:
Paperback (12/1/2018)
Description
Brian Eno's seminal album Ambient 1: Music for Airports continues to fascinate and charm audiences, not only as a masterpiece of ambient music, but as a powerful and transformative work of art. Author John T. Lysaker situates this album in the context of twentieth-century art music, where its ambitions and contributions to avant garde music practice become even more apparent. To appreciate the album's multifaceted character, Lysaker advocates for "prismatic listening," an attentiveness that continually shifts registers in the knowledge that no single approach can grasp the work as a whole. Exploring each of the album's four tracks and their unique sonic arrangements, Brian Eno's Ambient 1: Music for Airports argues that the album must be approached from at least three angles: as an ambient contribution to lived environments that draws upon cybernetics and the experiments of Erik Satie, as an exploration of what John Cage has termed the "activity of sounds," and as a work of conceptual art that asks us to think freshly about artistic creativity, listening, and the broad ecology of interactions that not only make art possible, but the full range of human meaning. If one listens in this way, Music for Airports becomes a sonic image that blurs the nature-culture distinction and rescues the most interesting concerns of avant-garde music from the social isolation of concert halls and performance spaces.

Oxford University Press, USA, 9780190497293, 184pp.
Publication Date: December 17, 2018
About the Author
John T. Lysaker is currently William R. Kenan Professor of Philosophy at Emory University. He works in the philosophy of art and literature, philosophical psychology, and 19th and 20th century American and Continental Philosophy. His books include You Must Change Your Life: Philosophy, Poetry, and the Birth of Sense, After Emerson, and Philosophy, Writing, and the Character of Thought. Current work includes a general theory of art and an extended inquiry into the nature of friendship.
or
Not Currently Available for Direct Purchase