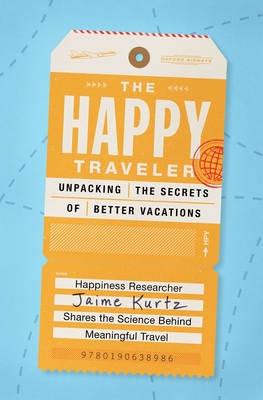 The Happy Traveler: Unpacking the Secrets of Better Vacations (Paperback)
Unpacking the Secrets of Better Vacations
Oxford University Press, USA, 9780190638986, 304pp.
Publication Date: May 29, 2017
About the Author
Jaime Kurtz is Associate Professor of Psychology at James Madison University. Her research on happiness and savoring has been published widely in scientific journals, receiving national attention from NPR and The Today Show, as well as in print and online magazines. With bestselling author Sonja Lyubomirsky, she is co-author of Positively Happy: Routes to Sustainable Happiness, a workbook for putting happiness strategies into practice in everyday life. Dr. Kurtz is a collaborator on the "Many Labs" study, a groundbreaking project designed to test whether psychological research replicates across time and place. This ongoing work has received national acclaim from National Geographic, Science, and Nature. Dr. Kurtz's mindful travel photography has been featured in The New York Times. Dr. Kurtz has visited 29 countries and 45 of the 50 United States.
Advertisement